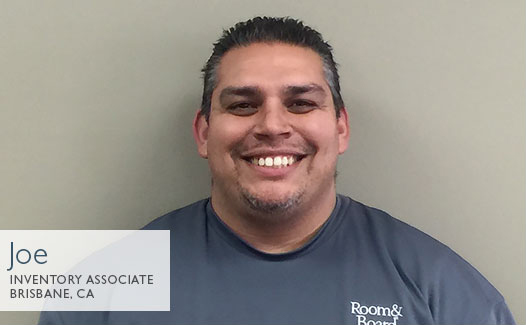 Joe feels lucky to work for a company that encourages its staff members to grow in their roles and engage with all aspects of the business. He recounts, "I was hired as a Delivery Associate in 2007. Any time I wasn't on the truck during my eight years in that role, I learned how to do a little merchandise quality, inventory, returns and repair work. When there happened to be an opening as an Inventory Associate, I was able to move into that role with ease. While I don't know what other roles lay ahead, I'm pretty sure I will retire with Room & Board."
Joe enjoys the variety of his work as an Inventory Associate and finds he is suited to the multitasking it requires. He is responsible for the safe, accurate and efficient handling, storage and transfer of Room & Board product through distribution and retail channels. "There are always things we need to react to and account for to keep things moving smoothly. For example, if a customer cancels or reschedules, we have to make sure the items are taken out of the packing lane so they don't end up on a truck. We are in constant communication with our partners in Customer Service, Retail and Delivery to maintain the integrity of our inventory process."
Having experience in many aspects of the business helps Joe do his job well. He shares: "I know how my duties will affect the Delivery Associates and Returns Associates. Also, having been a Delivery Associate, I can explain why they do things a certain way." The atmosphere in the San Francisco Delivery Center benefits from this cross-pollination of knowledge and understanding. "It's a friendly and cooperative place to work. There's not a lot of micromanaging at Room & Board, which is quite different from my other jobs. It's about getting to know each other and working together to do the best job we can."