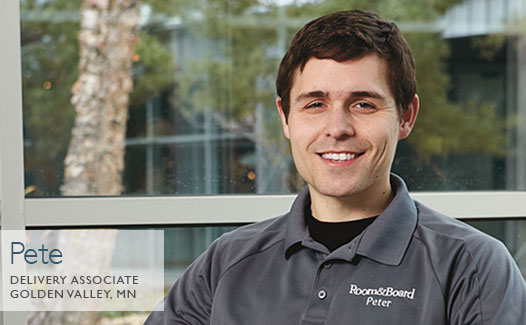 While our Delivery Associates come from a variety of backgrounds, Pete's career history is actually a bit unique: His role at Room & Board is his third position delivering furniture. However, his previous delivery experiences couldn't be more different from Room & Board.
"This is definitely not your typical delivery job. The level of support and trust here is unlike anything else I have ever experienced."
Prior to joining Room & Board, Pete worked for a large furniture retailer. After a friend of his left that company and took a position at Room & Board, Pete was amazed at how different the two places sounded. "My friend kept sharing such great things about Room & Board and I was really ready for a change. I wasn't feeling valued as an employee. At my last job, they just sent us out on deliveries and nobody ever asked how it was going. But here my team and managers check in frequently to make sure everything is going well."
Another difference at Room & Board that Pete has embraced is the focus on customer service. He realized right away during the interview process that Room & Board's approach was different. Each staff members' role includes creating great experiences for customers.
"They asked a lot of questions about customer service in my interviews. I could tell that they were looking for someone that was passionate about customer service, not just somebody to carry a box. At Room & Board I feel empowered. If a customer isn't completely satisfied or something goes wrong with a delivery, I can make decisions out on the road and solve the problem for my customer."
As someone who appreciates building relationships, the stories that his friend shared with him before he even applied continue to make an impression on him as a Room & Board staff member. "Here it is a lot more than doing deliveries. I am really part of a team. I have never had a job before with so much support."