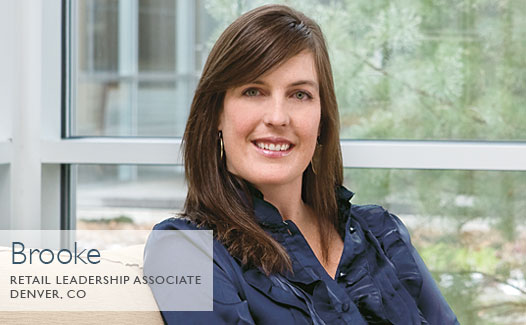 Brooke had always been in the fashion industry—from working with designers to owning her own clothing store. But a career at Room & Board seemed destined to be for Brooke.
"I was first introduced to Room & Board when I lived in Denver and I was hooked. I loved the Mid-Century and modern designs. I then had an opportunity to live in New York City and quickly discovered I was near the SoHo store. When I returned to Denver, the first place I thought of was Room & Board."
The timing of Brooke's move to Denver couldn't have been better since a leadership role had just opened on the team. Thanks to her diverse background, experience as a leader and passion for design, the role was a fit. Adding to Brooke's success in her role as a Leadership Associate is her passion around customer engagement. "The job seemed like a great fit both for my personality and design-wise. I really like to put things together for people and help find solutions."
For Brooke, learning about Room & Board's strong community support was an added benefit. "I was already in love with the company and then I started hearing about the various programs and our unique take around community giving. It was like icing on the cake."
This innovative approach centers around Room & Board's Community Partnership Program. In Denver, our partner is a local non-profit that helps young people overcome homelessness and other challenges. The Community Partnership Program grew from the idea that individual giving—especially of one's time—is just as important as companywide partnerships. The goal of the program is to develop a focused relationship with one organization that is driven by staff member volunteerism.
"It is so amazing to get to know these kids and see firsthand what they are going through. The last time I was at the center everyone was celebrating because two kids had just found jobs. It was so inspiring."
Brooke's enthusiasm for community giving runs deep. She grew up in a family of dentists and for as long as she can remember they have been making regular treks to a number of orphanages in Central America to provide dental work. She has also spent time working in Africa with families living with AIDS. "For me, my career at Room & Board is like falling into your passions. I get to work around design all day and also where my heart lies. It was like it was meant to be."