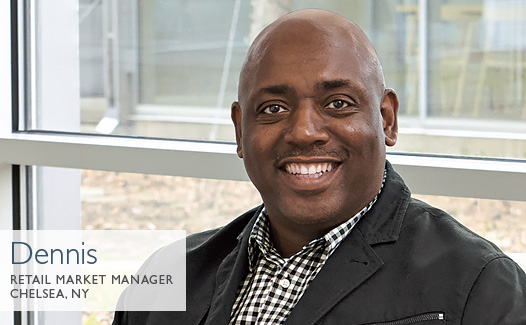 After many years working in retail environments, Dennis decided to explore his passion and took on some freelance interior design work. He first encountered Room & Board through a client and was floored by his introduction to the brand. "We flew to Chicago to shop from the store since there wasn't one in New York and I loved everything about it – it was beautiful, modern and affordable. Two months later, I saw an advertisement in the employment section about a Room & Board store opening in New York and the rest is history."
While Dennis was intrigued by the design aesthetic and product, he soon realized there was a deeper story with Room & Board. "When I started to interview, it became clear that Room & Board operates around a clear set of core values; the more I learned about the company's philosophies, the more they resonated with me." In contrast to his previous work experiences, which were hierarchical and rules-based, Room & Board valued staff members' individual voices. "I felt like the company wanted to tap into my voice, my skillset, my talents. I truly feel like my ideas get to see the light-of-day and impact the business. Before coming to Room & Board, I didn't know it was possible to work this way."
Dennis was hired as a Leadership Associate when the store opened in 2005, and from the beginning relished in collaborating and building relationships within the showroom, across the company, with vendor partners and with customers. When he assumed his position of Retail Market Manager in 2013 and helped open the Chelsea location in 2014, it felt like an organic extension of what he was already doing. "Collaboration is the cornerstone of our success. We have the opportunity to set goals every year and I love helping my team create that roadmap. It's a self-guided journey and we all learn a great deal from it. Since our teams in the stores are meeting and talking to customers every day, it behooves us to tap into their experiences to find the best solutions."
As he looks to the future, Dennis is excited about Room & Board's winning formula: a commitment to its core principles, while always trying to improve. "We keep an eye on the changing needs of our customer, the economy and the world around us. It's fascinating to see how we collectively overcome obstacles with creativity and a commitment to our standards. As we continue to blaze trails, I know we will find the balance of staying true to Room & Board. I love that I work for a company that is willing to listen, adapt, experiment and grow."