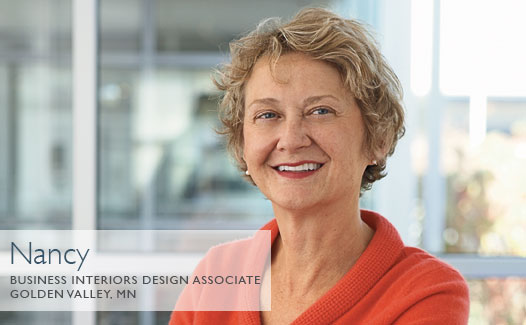 After graduating with an Interior Design degree, Nancy worked for a small, commercial firm where she spent her days mainly drafting floor plans with little interaction with others. "I knew right away that it wasn't for me. I need to be around people and that is one of the reasons why I explored a career with Room & Board. I love that every day is different—I love the diversity of the customer."
At first glance it would seem that little has changed for Nancy since she joined Room & Board nearly 20 years ago. She started as a Design Associate in one of Room & Board's first stores, worked in a similar position with the Shop From Home team and now works as a Business Interiors Design Associate.
However, from Nancy's perspective, every year brings new experiences and opportunities that allow her to continue growing in her role. "Even though the roles have similarities, they are certainly not the same job. I find it refreshing that with our annual goal-setting process I always fill my need to keep learning new things. Art is one of my loves so one of my recent initiatives was to get everyone on my team to visit the Walker Art Center."
Much has also changed along the way for Nancy as the company grew—but probably most significantly for Nancy is what has not changed. "Even though our tools and practices have grown with the company, I love that the core philosophies that were here in the beginning have not changed."
Nancy was first drawn to Room & Board because of the quality of the furniture. "What initially impressed me is that each piece of furniture was artisan-developed. I love that today this still rings true. It is like each piece of furniture is a piece of art."
Today, Nancy can't imagine working anywhere else. "The time has flown by and every day is different, depending on the questions that you are getting—it can be floor planning, color theory—it is a huge variety. Plus, I like working with a lot of creative people. The creativity is almost palpable and I love that."