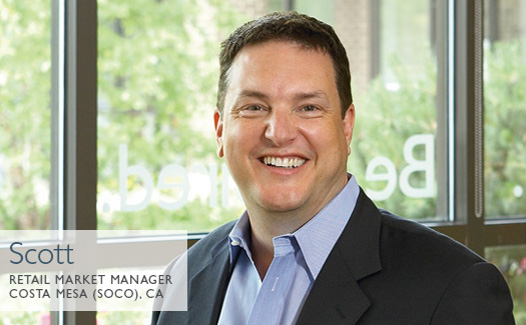 Just about the time Scott was getting tired from the constant travel and long hours that came with his career producing live opera, he walked into a Room & Board store while visiting Chicago. That night he went back to his hotel and applied for a position as a Design Associate.
"When I walked into Room & Board it felt different from other stores. The fruit was real, the flowers were fresh and the room displays were inspiring—but mostly it felt different because the people weren't trying to sell me something. They were trying to help me find what I really wanted. I felt like I was coming home."
After receiving a Master's degree in music as well as a Business Arts Administration degree, Scott spent 15 years working in various capacities with opera companies around the country. Even though he didn't have a background in retail, he was confident that he would be successful as a Design Associate and as he learned more about Room & Board he realized that his background and skills translated well.
"I quickly realized that in addition to really wanting to help people, success in my role takes collaboration—both with the customer you are helping as well as with partners throughout Room & Board. When it comes down to it, working with a team to get an elephant on a stage—including two costume changes—isn't so different from helping someone find solution and complete their home. No matter what career you come from, you have to be team player."
In addition, Scott believes that having a team with diverse backgrounds is an asset within the store. "The strengths I bring to the team are different than everyone else's strengths and we end up complementing each other. Here, your individuality is your strength."
Now, nearly ten years later, Scott has spent time in a leadership role helping open the Washington, D.C. store and is now leading the SOCO location—and after spending time in three different stores he still feels like he is home. "I still support the opera and will always have a passion for that work, but now the chaos is gone. Now I can settle down, have a house and spend more time with my family. I love that my life has balance."