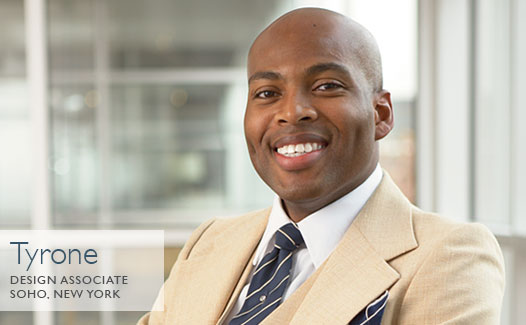 Tyrone expected that helping open a new store in a new market wouldn't be easy and probably a little chaotic, but after spending five years as a fashion stylist in New York City he was up for the challenge. "In the fashion industry it is hurry up and wait; it is always pandemonium."
What he didn't expect when he signed on as a member of the SoHo store was how much he would appreciate the experience. "It was really fun and exciting for all of us but on the flip side, since we were all new, it was kind of crazy. However, the experience was wonderful because it quickly became apparent how much Room & Board cared about us—they sent a ton of folks from the Central Office and other markets to help out. That is pretty unique in the retail world and really speaks to the depth of the company."
Tyrone had heard about Room & Board's philosophies before applying for a position as a Design Associate and again during the interview process, but was admittedly skeptical when he started. "I learned about Room & Board from my friend who was hired as the Visual Associate and it all sounded too good to be true. I didn't really believe that a company could be all of these things—committed to creating such high quality products, providing such amazing customer service and caring so much about its staff members."
Now nearly ten years later, Tyrone is continually amazed by how strongly Room & Board's philosophies are embraced throughout the organization. "My relationship with Room & Board is mutually rewarding—the core philosophies of respect and engaged learning are great values and good management in turn fosters productivity. I initially had a lot of questions, but in the long haul everything they said that they are and what they are about is true. That is what makes Room & Board stand out."
Tyrone especially appreciated the focus on growth. "In the fashion industry you were always expected to be ten steps ahead of the game, here it is okay to learn and grow at a pace that is truly rewarding. In my past jobs—especially fashion and really anywhere else—I was expected to be, at Room & Board it is okay to become."