Standard Features
Handcrafted in Minnesota
Grommets are hand-pressed into the fabric
Hand-sewn corners
Best suited for decorative use that doesn't require regular opening and closing
Each drapery is hung and tested prior to shipping

Optional Features
Privacy Lining, Blackout Lining or Privacy + Interlining
Frequently Asked Questions
Single Panel
Single panels accommodate a return on the left or right side, or function as center panels (without a return).
Single panel: minimum width, 12"; maximum width, 72"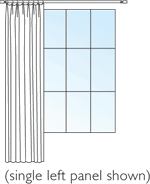 Pair of Drapery
Measurements for a pair are equally divided between two panels (left and right).
Pair of panels: minimum width, 24"; maximum width, 144"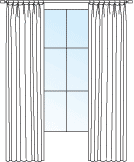 Total Width Coverage
Measure the total width of the area you'd like to cover. This is your ordering width. We've already accounted for the folds and pleats of the drapery.
If your drapery needs to open and close, the total coverage width will equal the same span as your hardware.
We recommend extending the measurement out 6-12" on each side from the edges of your windows or doors. This allows for as much natural light as possible when the draperies are open and makes the area appear larger.
If you are ordering stationary panels for drapery that does not need to open or close, an ordering width with less coverage will still give a finished look.
Video
Watch our video for tips on how to measure for drapery
Finished Length
Measure the total length of the area you'd like to cover. Keep in mind the type of hardware you'll be using and if it will be mounted on the wall or ceiling. The mounting type you select will affect the overall length of your drapery. Please review the drapery hardware deduction chart below and edit your finished length accordingly.
Using Wall Mounted Brackets
Using Ceiling Mounted Brackets
Drapery hardware
Top of rod to
top of fabric
Deduction from
ceiling to top of fabric
Decorative Rod (1 3/16" diameter)
add 1"
1/2"
Tips
For drapery that will be opened and closed frequently, select a length that's about 1/2" off the floor for smooth operation.
Ordering your drapery with an additional few inches of fabric will create a "puddle" effect and also hide uneven floors.
Video
Linings
Linings sewn to the back of your drapery protect the fabric from fading, improve insulation, add body and increase light blockage. All linings are an off-white color.
Unlined
No lining added to your window treatment
Preserves the natural transparency of the fabric you select
Privacy Lining
Offers privacy and greater light control
Helps protect the fabric from fading due to sunlight
Additional cost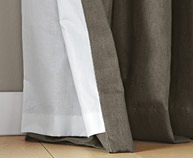 Blackout Lining
Blocks 99% of light for complete privacy and great insulation
Recommended for bedrooms, media rooms or wherever light blockage is desired
Not available with sheer fabrics
Additional cost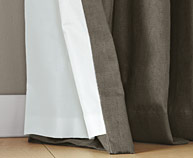 Privacy + Interlining
Standard privacy lining combined with a cotton flannel "interlining"
Protects fabric from fading and provides great insulation
Adds additional body and fullness
Not available with sheer fabrics
Additional cost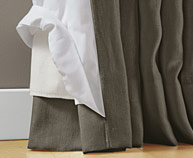 Grommets
Our metal grommets are hand-pressed into the drapery fabric. Each grommet has an inside diameter of 1 7/16" and an outside diameter of 2 3/8". Available in your choice of nickel, satin nickel, brass, bronze or black finishes.