Caperton
A love of woodworking, nature and home inspires Caperton's furniture, hand-built in the Shenandoah Valley by local craftsmen.
History
On a West Virginia mountain ridge with historic river valley views, Gat Caperton started his business with a commitment to creating furniture that embodied the spirit of his home state—celebrating the wood, the people and the land. Today, Gat and the dedicated artisans who make up the award-winning company work closely with Room & Board to build quality solid wood furniture, drawing from construction techniques of their heritage to ensure a lifetime of use.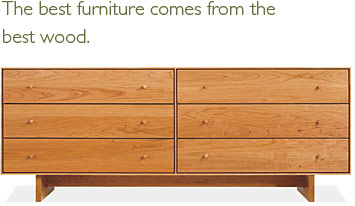 Craftsmanship
Using solid, sustainably harvested wood, Caperton builds only what is ordered. They don't import materials or run an assembly line. They simply employ talented people who cherish wood and love to build things for a living—people who will touch every inch of a piece before it leaves the workbench. One artisan even keeps a record of every table he has built since he started with Caperton in 1986. The end result is heirloom-quality furniture that quietly showcases individual craftsmanship, with each piece personally signed and dated by the artisan who created it.
Design with a Difference
Using American hardwood to build a piece of furniture that will last one hundred years or more makes product life cycle a major contributing factor to Caperton's holistic philosophy on sustainability. In addition, they diligently minimize daily impact by focusing on raw materials, energy and people, sourcing 95 percent of wood within a 350-mile-radius and turning waste streams into energy with a state-of-the-art bio-mass burner. Reducing exposure levels to hazardous air pollutants by more than 90 percent and managing health with regular visits from a preventive care nurse completes the circle, allowing the people of Caperton to actively take pride in what they create and how they create it.
See all Caperton products