Eastern Accents
This Chicago-based textile company was born of a simple desire to create American-made luxury bedding with an emphasis on craftsmanship and quality.
History
In 1989, Ridvan Tatargil and his wife, Siw, began refashioning damaged Turkish carpets to create one-of-a-kind kilim pillows. As the years passed and demand for their products grew, what started as a collection of handcrafted pillows soon gave way to a complete line of bedding, home furnishings and home decor. Today, Eastern Accents is one of the nation's leading purveyors of luxury bedding.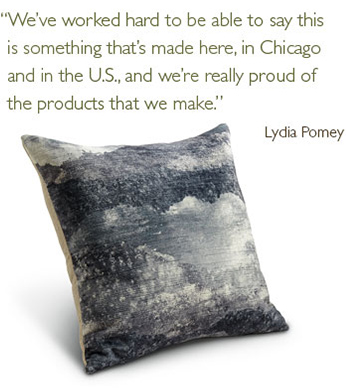 Craftsmanship
We're proud to partner with Eastern Accents to offer American-made bedding and decorative pillows, including fabrics and designs exclusive to Room & Board. The company's designers travel the world in search of inspiration, sourcing the unique fabrics that lend a one-of-a-kind feel to our accent pillow collection from around the globe. To create the perfect balance of softness and comfort in bedding staples like our duvet covers, they turn to materials with a more organic feel, including Belgian mohair and 100% linen or cotton made in the U.S.
Inside the company's Chicago facility, more than 300 employees trained in the art of design, sewing or upholstery skillfully construct each piece. More delicate fabrics are cut by hand, and details like pattern direction and zipper color are carefully matched to ensure a beautiful design from front to back. Feather and down inserts are then hand-tucked into finished pieces for luxury from the inside out. "It's really boutique manufacturing," says Lydia Pomey, director of business development. "We do everything one at a time and we take our time with every single product. We don't compromise on anything."
Dedication to Design
Eastern Accents may have grown from a small, husband and wife operation to a full-scale textiles manufacturing company, but the Tatargil family's commitment to producing quality, American-made goods continues today. "We've worked hard to be able to say this is something that's made here, in Chicago and in the U.S., and we're really proud of the products that we make," Pomey says. "We want people to feel the same way."
See all Eastern Accents products