KleinReid
KleinReid stands at the forefront of porcelain design and wall art, infusing every piece with thoughtful design, fine craftsmanship and lasting beauty.
History
In 1993, artists James Klein and David Reid began collaborating with a shared vision to create objects they love and to have fun doing it. Drawing inspiration from the shared history of people and vessels, they elevate the simple form of a vase into a symbol of the human body, reflecting an array of physical traits, gestures and emotions.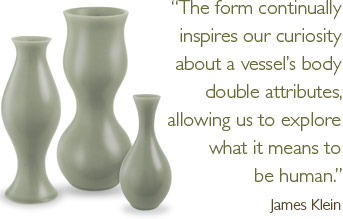 Craftsmanship
KleinReid creates each design by hand in their New York City studio. Beginning with a drawing, they cut paper silhouettes before employing fine "from-scratch" craftsmanship to create elegant forms with dense, translucent porcelain and artisanal glazes.
Design that Makes a Difference
In 1999, James and David approached design legend Eva Zeisel with a proposal to collaborate. Revered for her sensual take on modernism, Ms. Zeisel has always been a huge inspiration to the pair. With a storied background in the ceramics industry since 1924, she appreciated KleinReid's merging of industrial techniques and artisanal quality. The trio's work since then has included the enduring "Eva" line of vessels and limited edition hand-screened print collections. According to David, they treasured their work and friendship with Ms. Zeisel. "She taught us to design with honesty and love and without limitations," he says.
Another major influence on KleinReid's work is the simplicity of the vase and what it represents. According to James, "The form continually inspires our curiosity about a vessel's body double attributes, allowing us to explore what it means to be human."
KleinReid's work continues to evolve. Their ceramic pieces go through a 28-step process, from mixing porcelain and glazes from proprietary recipes to making and hand-finishing every vessel. And wall art continues to reflect florals and other images drawn from the natural world.
See all KleinReid products