McCreary Modern
Created with quality materials and exceptional attention to detail, McCreary products are built for enduring beauty.
Craftsmanship
The McCreary passion for detail informs every stage of product development and construction. Fabrics are carefully chosen for style and durability. Frames are built in-house using quality materials and proven techniques, then reinforced for strength and stability. Cushions are filled with a combination of fiber, feathers and down or feature wrapped foam cores for incredible comfort and support.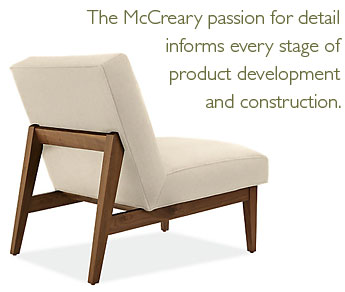 Dedication to Design
McCreary is a top manufacturer in the industry, as well as a primary source of the Room & Board upholstered furniture collection. The North Carolina company builds unparalleled quality, comfort and style into each of their pieces, giving their customers plenty of reasons to feel confident about investing in McCreary products.
Founder and CEO Bob McCreary tests the furniture himself, sitting on sofas and chairs throughout the design process and making adjustments as necessary.
See all McCreary Modern products