Obeetee Rugs
Obeetee unites traditional artistry with modern solutions to social and environmental challenges.
History
Founded in 1920, Obeetee is India's leading producer and exporter of hand-knotted, hand-tufted and flat-woven rugs. One of the country's largest and most reputable exporters, Obeetee works with roughly 16,000 independent Indian artisans.
Most of these artisans have a rich weaving heritage that extends back five or six generations. Obeetee employs their traditional skills to produce exquisite rugs in tune with contemporary living.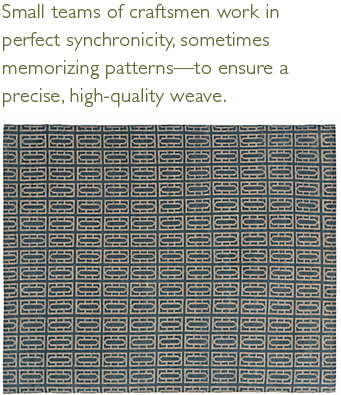 Craftsmanship
Weavers follow a "naksha" or master plan that intricately and accurately plots an original rug design. Before the hand-knotted rugs are woven, two rows of warps are vertically stretched from top to bottom. These warps serve as the foundation for exceptionally plush and durable rugs.
To ensure colorfastness, Obeetee rugs are made from the highest quality wool and dyed using precise techniques that combine human skill with technology.
Small teams of craftsmen work in perfect synchronicity, sometimes memorizing patterns to ensure a precise, high-quality weave. Washing the rug is the most important step in the multi-stage finishing process. Craftsmen clean each rug with rhythmic precision in a kind of ritual dance.
Design that Makes a Difference
Deeply committed to responsible environmental practices, Obeetee was the first in its industry to set up water effluent treatment plants and air pollution control systems in India. As a direct result, the fields behind the Obeetee factory are lush with fertile farmland.
Obeetee also works to improve social welfare in their communities. In addition to providing high compensation and favorable working conditions, the company supports local school systems. Based on the large numbers of artisans they employ, Obeetee claims responsibility for the well-being of more than 100,000 men, women and children.
See all Obeetee products