Pendleton Woolen Mills
For more than 100 years, Pendleton® has crafted 100% virgin wool into heirloom-quality blankets, pillows and home decor.
History
A family-owned business for six generations, Pendleton is as much a tradition as it is a company. That tradition dates back to 1863, when a skilled English weaver named Thomas Kay immigrated to America's picturesque Pacific Northwest. The region, with its abundant water supply and moderate weather, also offered ideal conditions for raising sheep and producing wool. There, in what had recently been named the state of Oregon, Kay founded the beginnings of what would eventually become the Pendleton Woolen Mills we know today.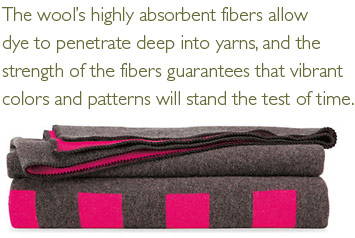 Craftsmanship
Pendleton wool buyers shop world markets, but much of their 100% virgin wool comes from within the United States. Then, every step of the fabric production process—dyeing, carding, spinning, weaving and finishing—happens at one of two company-owned and operated mills in Oregon and Washington. Further steps such as controlled shrinkage, washing, shearing and pressing ensure the cloth is soft and compact. The wool's highly absorbent fibers allow dye to penetrate deep into yarns, and the strength of the fibers guarantees that vibrant colors and patterns will stand the test of time.
Design that Makes a Difference
Wool is a natural and renewable resource. But the company has gone a step further with its recyclable, compostable Eco-Wise Wool. Many of our exclusive Pendleton blankets, throws and pillows are made from this earth-friendly fabric that still meets Pendleton's high quality standards. By using nontoxic biodegradable dyes, Pendleton Eco-Wise Wool® bears the Cradle to Cradle™ sustainable product certification.
See all Pendleton products