Precedent
Beautiful, organic shapes lend comfort to furniture built by Precedent in North Carolina.
History
When Precedent was founded in 1971, most furniture companies were selling sofas and matching chairs. Ed Harmon, one of the founders, saw there was a market for occasional chairs that accented, rather than matched, the room. Thus, the company began as a true chair specialist. Ed has a unique combination of skills that served the company well: he has an artist's sense of scale and proportion and an engineer's mind to bring designs to life. And he consults on Precedent's product development to this day. Now Precedent makes a wide range of furniture from chairs to sofas to beds.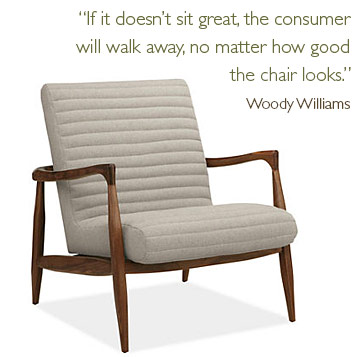 Craftsmanship
Precedent is proud of their product development work and considers it something that sets them apart. They take great pride in collaborating with our merchandising team and offering tweaks that result in an amazing final product. "If it doesn't sit great, the consumer will walk away, no matter how good the chair looks," says Woody Williams.
Dedicated American craftspeople use technology such as a CNC router that cuts frame parts "like a jigsaw puzzle" to ensure they fit perfectly. Sewers do hands-on work to ensure patterns are matched and cushions fit well. Every bed made at Precedent is assembled before it leaves the factory; tiny adjustments are made to ensure everything fits together just right, then it's disassembled for shipment. This attention to detail combined with high-quality materials practically eliminates warping or bowing.
Design that Makes a Difference
"Making sure our furniture is of the best quality is the best sustainable practice," says Woody. "After all, the longer it lasts means it won't end up in a landfill in five years." But the company's commitment to eco-friendly manufacturing doesn't stop there. Precedent uses only Sustainable Forestry Initiative-certified hardwoods, which means that the wood was sustainably harvested. Steel frames and fasteners have 95% recycled content. Water-based glues hold everything together. And all padding contains recycled polyester content. It's all about caring for the community at home and beyond.
See all Precedent products