Shell Lake Woodcrafters
With a modern interpretation of Arts and Crafts style, Shell Lake Woodcrafters creates heirloom-quality storage pieces with custom options.
History
Built around the ideals of craftsmanship, quality materials and honest work, Shell Lake Woodcrafters was founded in 1991 in the north woods of Wisconsin. A partnership with Room & Board was born soon after, when Shell Lake created an Arts and Crafts-inspired fixture for our first store. That piece inspired Linear, a timeless, straightforward collection that's modern in both function and style, the cornerstone of Room & Board storage solutions.
Our close partnership with Shell Lake also allows us to offer custom options. They can build a piece specifically for you with the same commitment to natural materials and handcrafted quality with amazingly quick delivery.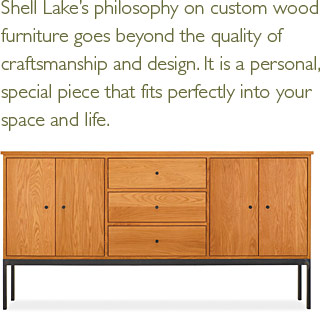 Craftsmanship
Shell Lake uses solid wood for all furniture tops, drawer fronts and end panels. They take special care to ensure distinguishing wood characteristics complement the design of each piece. For example, end panels are matched to the grain patterns of cabinet tops and drawer fronts. Tops are screwed on—never glued. Case interiors are finished, and drawers are constructed with dovetail joints. Finally, an oil-and-wax finish is applied by hand to enhance the wood's natural beauty.
Design that Makes a Difference
Shell Lake reduces their impact on the environment by burning scrap wood and byproduct to heat their plant or converting it to animal bedding and compost for local farms. They use domestic wood, harvested from renewable resources and a natural oil and wax finish, which is less harmful to the environment than stains and lacquers.
But perhaps their most significant sustainability effort is the furniture they create—pieces that will last for generations. We're proud to partner with Shell Lake Woodcrafters, a company that shares our passion for enduring beauty and value and a belief that an investment in quality today has long-term benefits far greater than cost.
See all Shell Lake Woodcrafters products