Shenandoah
Family-owned since 1981, Shenandoah builds quality furniture with timeless style.
History
Shenandoah's founder GC Huddle helped in his dad's one-man upholstery shop after school and during summers. He learned firsthand the techniques and craftsmanship of the upholstery trade. In 1981, GC started Shenandoah Furniture, Inc., in southwest Virginia. His daughter Candace Payne joined the company in 1989, focusing on the merchandising side of the business. And in 1997, Candace's husband Phil began heading up the sales and customer service areas of the company. Today, Shenandoah is proud to have factories in Martinsville, Virginia and Valdese and Mount Airy, North Carolina, which are areas with strong legacies of furniture making.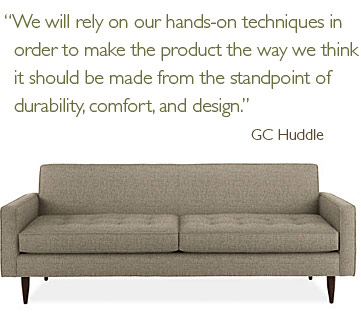 Craftsmanship
Shenandoah builds furniture using a combination of the best technology and time-tested handcrafting. "Even with recent technological advances, overall, our bench made product is still dependent on the skills of our people," says GC. "We use new technologies where we can, but we resist compromising design or comfort. We will rely on our hands-on techniques in order to make the product the way we think it should be made from the standpoint of durability, comfort, and design." Shenandoah relies on the skills of a wide range of artisans—from frame builders to upholsterers.
Design that Makes a Difference
By using sustainably forested woods for frames, soy based foams in cushions and springs made with recycled metals, Shenandoah is committed to protecting the environment. They recycle scrap fabrics, leather and scrap wood and even the sawdust. Their biggest commitment, however, is to building high quality, durable furniture that will be part of your home for years to come.
See all Shenandoah products