Vermont Furniture Designs
This small woodworking company handcrafts beautiful, solid wood storage pieces to last generations.
History
Arthur Weitzenfeld founded Vermont Furniture Designs in 1970 as a business that specialized in building weaving looms. Since then, the small woodworking company has maintained its dedication to the tradition of American furniture making.
Room & Board met Weitzenfeld in 1988 during a collaboration that produced our Arts and Crafts-inspired collection Heartwood. The partnership—one of our longest—was so successful that we developed additional collections with Weitzenfeld and his team. In 2006, we introduced Anders, a line of simple bedroom furniture inspired by the work of 20th-century American modernist George Nakashima.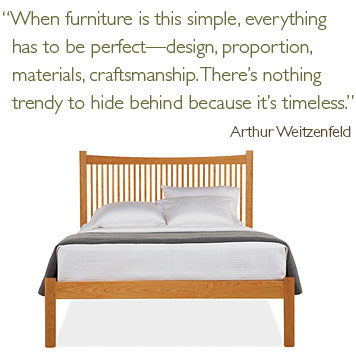 Craftsmanship
Vermont Furniture Designs builds furnishings by hand from solid wood, using the highest standards of craftsmanship. This commitment to excellence results in heirloom-quality furniture that's as practical as it is beautiful.
The company is also known for its flawless color and grain matching. They rely on extensive experience and artistic instinct, rather than computer technology, to find the perfect pairing.
Design that Makes a Difference
Room & Board is proud to partner with Vermont Furniture Designs, a company committed to preserving the art of American furniture making. Each time you open a dresser drawer or cabinet door you'll appreciate the attention to detail and quality construction. "Everything is overbuilt," says Arthur. "Sturdy is an understatement for what we build."
See all Vermont Furniture Designs products