Wood Castle
Wood Castle uses a combination of handcrafting techniques and specialized machine-built pieces to create large-scale furniture from solid Pacific Coast maple.
History
Descended from master woodcrafters in Norway, the Loe family started Wood Castle Furniture in 1978. The company is now one of the last remaining furniture makers in Oregon, and their mission to create heirloom-quality pieces still informs everything they do. "We're creating furniture to be passed down from parents to children," says Ron Loe.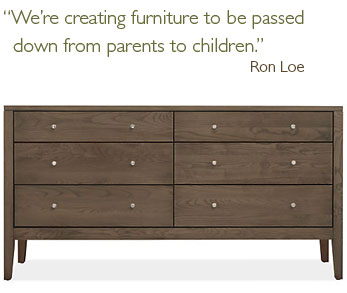 Craftsmanship
Wood Castle builds our Calvin collection from solid Pacific Coast maple, one of the strongest and most stable hardwoods. With a high resistance to humidity and a deep, rich color, the use of Pacific Coast maple results in furniture of exceptional quality and beauty. Wood Castle uses a combination of specialized machinery and handcraftsmanship to produce large-scale furniture from the wood.
Design that Makes a Difference
Wood Castle harvests its trees within a 75-mile radius of their facility. This practice eliminates the negative impact of cross-country transportation. Additionally, the state-owned forest is among the world's most carefully managed. For every tree harvested, three trees are planted within five years, ensuring a healthy future for both the company and the planet.
See all Wood Castle products