I'm here today to give you the real deal on stocked, allow-extra-time and custom upholstery. Read on for the insider's guide to what you need to know before you buy your next sofa, sectional or chair.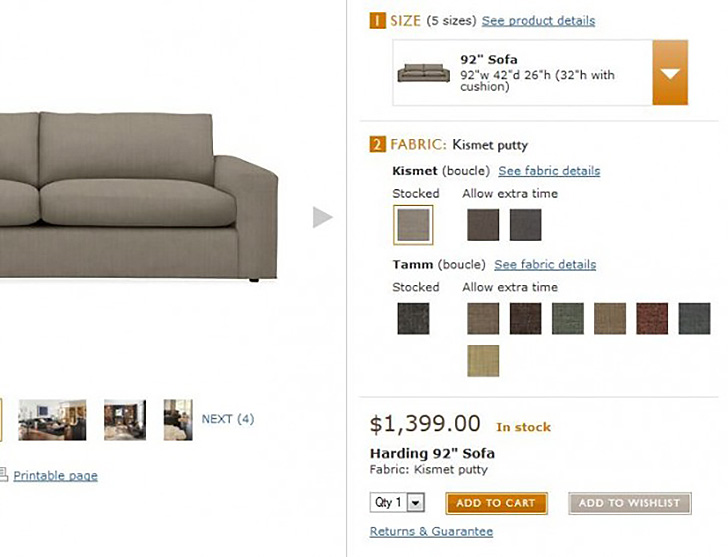 Stocked Items
For the majority of our upholstered items, we have one or two fabric or leather colors that we keep in stock for speedy delivery.   When we're deciding which fabric we should stock for a particular piece, we think about what suits the style of the frame and also what colors would work for most people (which is why you'll see lots of neutral stocked colors).
Availability: Ready to roll! It's in your living room in six days to three weeks depending on how close you live to one of our stores.
Price: Our best value. Because we keep larger quantities of our stocked items on hand, we can offer them at a great price.
Considerations: If you decide to cancel, change or return a stocked item, you'll receive a full refund (except for delivery costs if we've already delivered to you). And did I mention that we always have free return and exchange delivery regardless of what you buy? Welcome to the no-buyer's-remorse zone.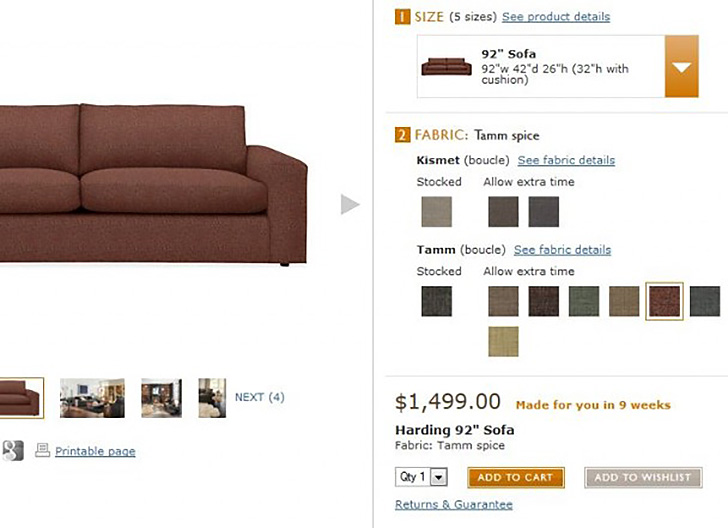 Allow-extra-time Items
An allow-extra-time item is one that's made for you in another color of the stocked fabric or leather. For example, our Harding sofa is ready to ship (AKA stocked) in the Tamm Charcoal fabric, but seven other colors of Tamm are available as allow-extra-time items.
Availability: 5-8 weeks to build + delivery time. The number of weeks depends on who is making the piece for us–each of our five U.S. upholstery manufacturers has a little bit different process. The amount of time required is not an indication of quality. They're all amazing!
Price: Also our best value. We offer the allow-extra-time colors for the same price as the stocked color. They just take longer because we make them upon request instead of always having them available.
Considerations: While you do have to wait longer for your order, you can still cancel, exchange or return these items and not be out money (again–if we've already delivered your order, the delivery fee isn't refundable). Free return or exchange delivery service still applies.
Custom Items
Here's where things get exciting. If the stocked or allow-extra-time options aren't doing it for you, you can put any fabric you want on your new sofa (or chair, or sectional, or bed or recliner…you get the idea). We even have a handy-dandy "draping tool" so you can see what a custom fabric or leather will look like before you order. That's good for hours of online fun, even if you don't buy something!
Availability: 5-8 weeks to build + delivery time. The same as allow-extra-time items because we're making them upon request.
Price: Depends on the fabric or leather you choose. As you're navigating your choices in the draping tool, you can sort fabrics and leathers by price and color.
Considerations: Because custom pieces are one-of-a-kind, a 30% non-refundable fee applies if you change, cancel, return or exchange them. However, you do have 48 hours after you order before that fee would apply. Reality check: many retailers charge 50% cancellation fees or don't allow returns at all for custom items. At Room & Board, you're never stuck with an item you don't love.
Pro tip #1
If you're curious about exactly how long something will take, put it in your cart and then enter your ZIP code there. Your ZIP code jogs our system to check real-time availability and confirm how many days or weeks it takes to deliver to you, specifically.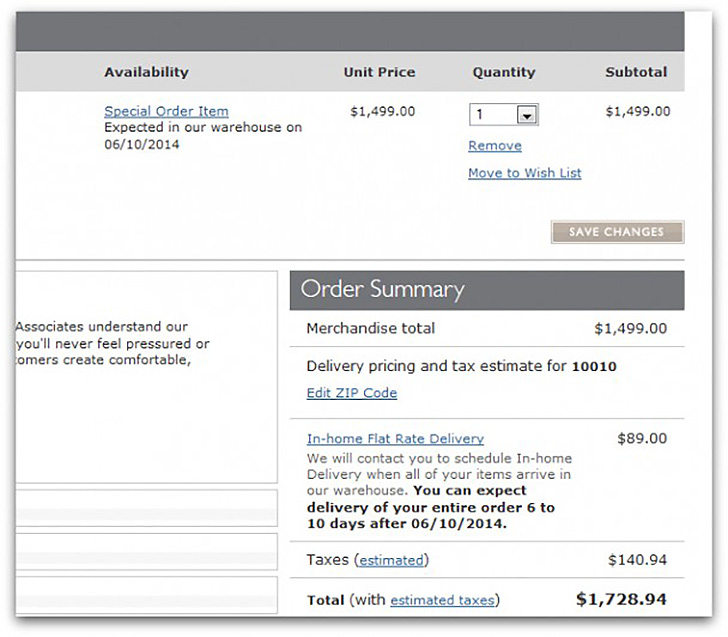 Pro tip #2
Order a swatch! We'll send you up to 20 fabric and leather swatches for FREE. It's helpful, obviously, for comparing your options, but a swatch is also nice to have as you're out and about shopping for other things for your room. Or if you're worried about how a fabric or leather will clean or wear, you can trash use it to run your own at-home tests. Go ahead, we'll send you more.
As always, we're here to help guide you to the right options for your home. Visit a store or talk to our Shop From Home team. Or comment below and we'll be happy to answer your questions here.
 Photos by Room & Board