Let's dress your dresser! Once your clothes or linens are inside the drawers, there's a blank canvas for you to use and style however you please. You could use the top of your dresser as a getting-ready area, show off your favorite books, display a frame wall or add an extra table lamp or two. And that's just the beginning! Check out our styling tips below.
Start with the basics
First thing's first: get everything off the top of your dresser. Clean off the dust until your heart's content and get rid of any unnecessary items in your bedroom. Then select a larger item, like a mirror or piece of artwork, to anchor your dresser. (Or you can position your dresser underneath a window for the same effect.) We recommend these anchoring pieces are no wider than the dresser itself.
Add height
A mix of height creates visual balance and also draws the eye upward, making the space around your dresser feel larger. Tall table lamps or billowy houseplants in unique vases are easy ways to add this type of balance. Modern carafes and tumblers or tall candles work well, too.
Place some accents
We love leaning frames and artwork for an ultra-modern look. Choose photos or artwork that make you feel at home or inspired as you're getting ready for your day. Varied shapes and sizes of frames or other small items like jewelry boxes, decorative trays or vases give your dresser an eclectic, but cohesive, look.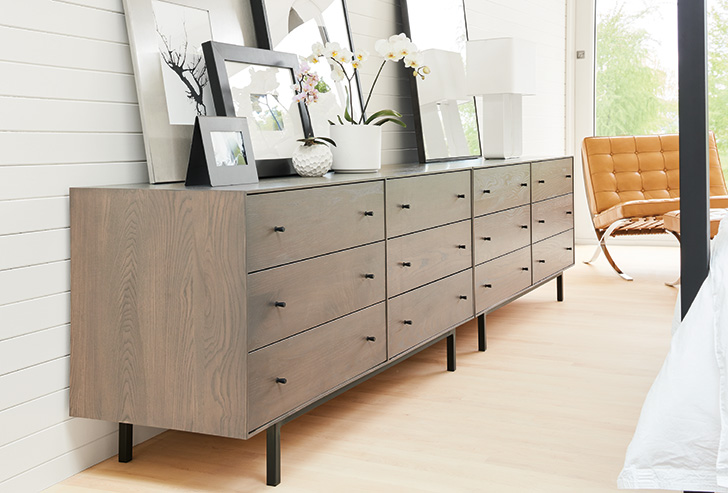 Hudson six-drawer with steel base, assorted picture frames
Photos by Room & Board