There's no beating natural light, but Room & Board LED light bulbs come beautifully close. We include LED bulbs with all of our table and floor lamps, sconces, and most of our pendants. It takes the guesswork out of "which bulb do I need?" by providing you with the best bulb for your specific lighting solution. Check out a few of the benefits of shopping Room & Board lighting and bulbs below.
Colors look how they're supposed to
Not only are LEDs more efficient and able to provide a more consistent light, they have a 90-95% color rendering index (CRI)–a.k.a. your new best friend when it comes to shopping for lighting. CRI essentially mimics natural light. It's measured on a scale of 0 to 100, and bulbs with a CRI greater than 80 (which is all of our bulbs, by the way) are considered excellent at revealing colors accurately.
Your room feels balanced with the right light temperatures
All LED bulbs fall on a color spectrum of temperature measured in degrees Kelvin. Most Room & Board light bulbs fall between 2,700 and 3,500 degrees Kelvin, which provides a warm to neutral white light. The higher the degree, the cooler the temperature/brighter the light. A task lamp, for example, falls between 3,000 and 3,500 K. The overhead light at the dentist's office? 5,000 or greater.
We keep our light bulbs mid-range so as you layer lighting throughout your home, you have a mix of warm whites to neutral whites to get a balanced look and feel. (Check out some design tips about how to layer your lighting.)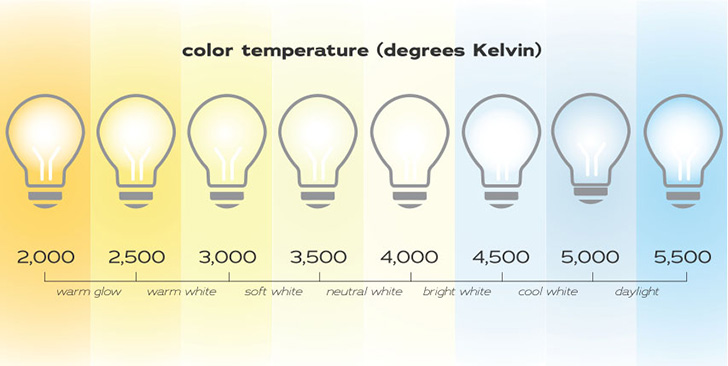 Photos and graphics by Room & Board