Gathering around a fire is one of those deep-seated joys humanity shares. There's just something magical about staring into the flames under a starry sky. Because it isn't possible (or easy) for everyone to build and tend to a fire, a contemporary gas fireplace for your outdoor space is a great alternative. They're easy to use and can withstand the elements from season to season. So consider investing in a contemporary fireplace like our durable Adara fire table—your friends and family will love gathering together on a cool evening, sharing stories and snacks.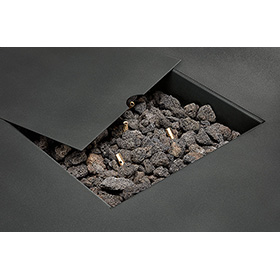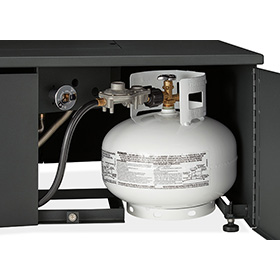 Lighting the Adara fire table is easy. Simply open the side door, turn the valve with the key and light the top—just like a gas stove. It can burn for up to 9 hours and reach 65,000 BTUs for those chilly nights. And it's adjustable, too, just turn the key further for great flame height.
Check out our video below to see this contemporary fireplace in action:
As always, our  Design Associates can help outfit your outdoor space, no matter the size or budget. Call, email, chat online or stop by a store for free design services today.
Photos and video by Room & Board.