A calming, cozy place to crawl into after a long day. It's what we all want, right? Karlee Sisler Flores, the baker and blogger behind Olive and Artisan, turned to us to turn that vision into a reality with a combination of walnut wood, lived-in linen, natural tones and vintage finds. Scroll to see the space (and a cute cat named Bruce Wayne!) and learn more about Karlee.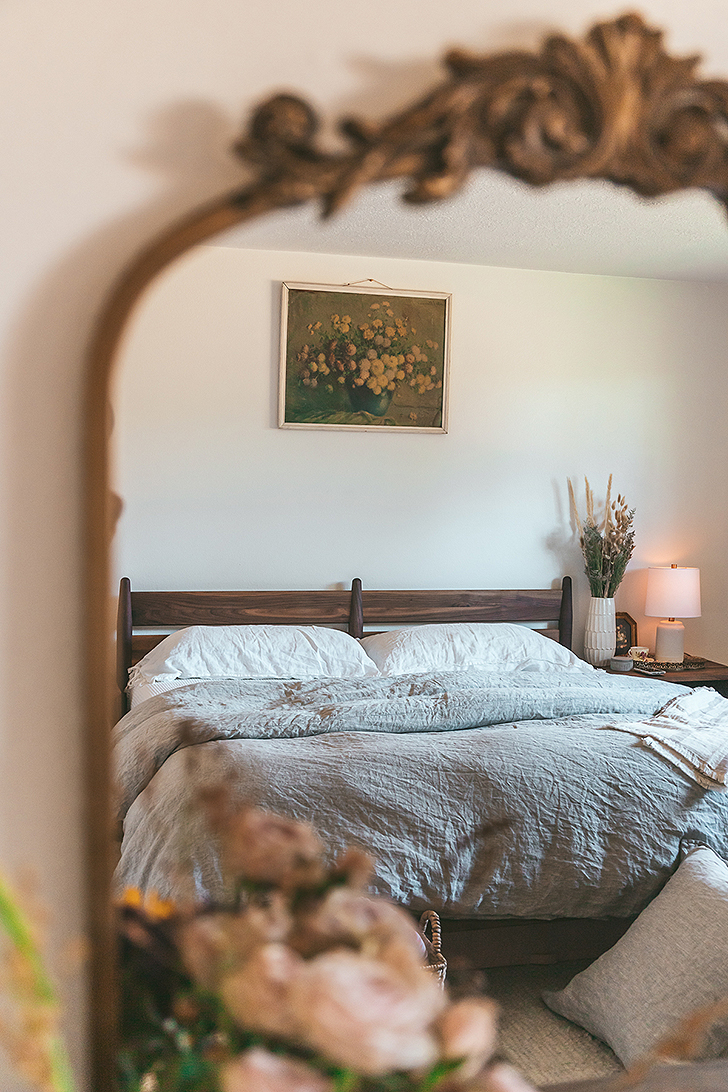 Grove bed, Relaxed Linen duvet and shams, Percale Sheets
What sparked your interest in baking?
It's hard to think of a time when the spark wasn't there. Even as a child, I was watching cooking shows on Saturday morning instead of cartoons. Once I was old enough to reach the counters on my own, I was mixing flour and salt and dried rice. It wasn't good, but I was trying! I've never lost the spark because there's always something new to learn or perfect.
When you're not in the kitchen, how do you like to spend your time?
I'm a reader, scary movie watcher, painter, gardener, and home project obsesser. But most of the time you can find me staring intently at my cat thinking everything he does is the definition of perfection.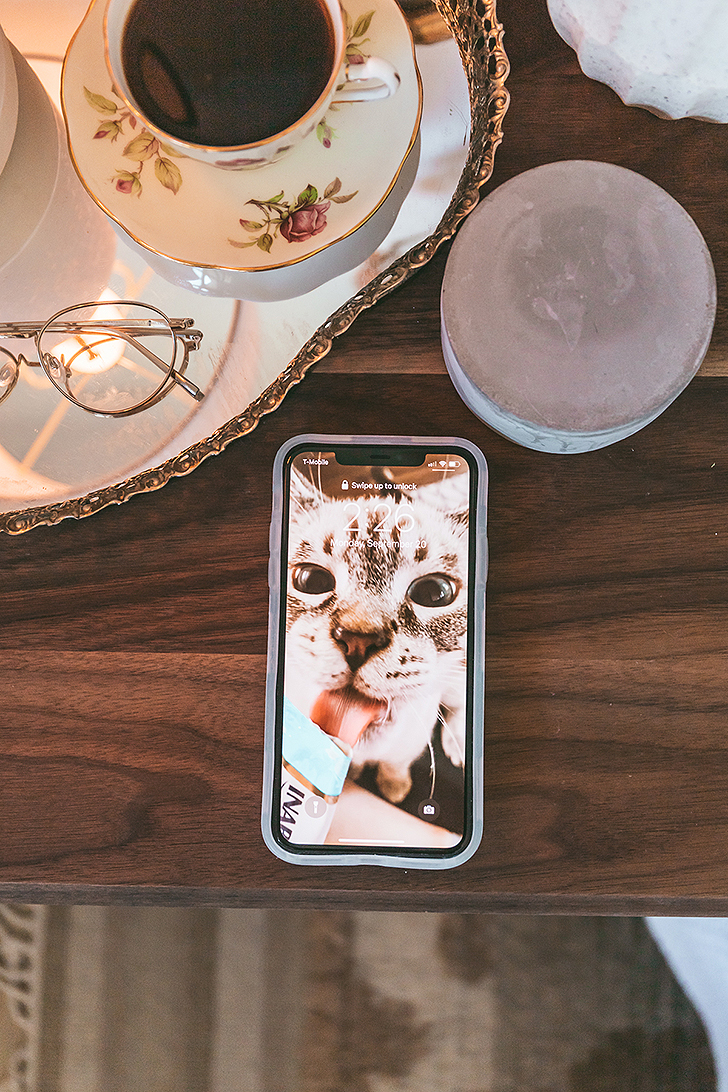 With the holiday season approaching, do you have a favorite meal or treat to make for family and friends?
My sister always requests a big braiser filled with Butternut Squash Risotto. I also love to make batches and batches of cookies and freeze the dough so they're ready for whenever company shows up or there's a last-minute cookie exchange.
How do you relax and unwind at home?
I hole myself up in my bedroom, shut the door, light a candle and put on a good documentary. Definitely in some cozy jammies and my phone on "do not disturb."
What was the most important element in designing your bedroom? How did you want the space to feel?
I wanted a room that was warm, cozy and inviting. I think making a space cozy is easily overlooked, but adding in the elements of natural wood, wrinkled linen, lots of pillows and a wool rug brings it to life while keeping it peaceful and minimal.
What was delivery day like?
I'm not a very emotional person, but I got choked up a bit when I walked into the new room. I worked all morning getting the old furniture out (a mix of hand-me-down tables, and the cheapest bed frame we could find when my husband and I first got married). The delivery people were so polite, fast and efficient. They showed me how to care for the wood, asked me how I wanted it arranged. I stayed in the kitchen for the time they were setting up, as soon as they left I snuck into my new bedroom and saw they placed my reading glasses on my new night stand and even set the mattress on the bed. I have to admit, it was a moment to finally have the bedroom I've always dreamed of.
If you could host your dream dinner party, who would make the guest list?
My family and close friends. I find they always challenge me the most. We can talk politics at the table if we want to, and we always finish the evening off with mulled wine and recycle the same stories we never want to forget.
What's your favorite sweet recipe to make? Savory?
I love to make cakes. There is something so fun about decorating, from colors to textures, the multiple kinds of buttercream to choose from. And, no one turns down cake. For savory, I'd have to say a Sunday Pot Roast with tons of fresh herbs and lemon. It's always simple and and the whole house smells amazing.
What book is currently on your nightstand?
I just started The Lost Apothecary by Sarah Penner. I recently finished a very long biography of Zelda Fitzgerald by Nancy Milford. And, a copy of the original Christmas Carol which I like to read every year for the holidays.
Photos by Karlee Sisler Flores