Avilia
Add modern sophistication to your room with the subtle and timeless pattern of Avilia. A luxury you'll enjoy every day, Avilia is hand-woven from 100% wool. The low profile, flat-weave construction is durable and reversible for long-lasting wear.
Please note that shedding is a natural occurrence in high-quality wool rugs, but will decrease over time. The amount of shedding will depend on the traffic pattern and use of your rug.
See the full Avilia collection
Product Care
Helpful Links
HAND-WOVEN RUG CONSTRUCTION DETAILS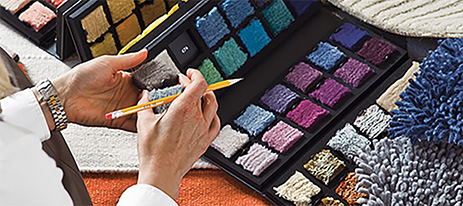 Rug Design Process
Long before our rugs are woven, they start as a vision of color, composition and material. We design our rugs with inspiration from art and architecture to historical designs and nature. Every color, pattern and texture is carefully considered to ensure the rugs are both beautiful and easy to live with. We use the highest quality yarns for durability and longevity. Rugs set the foundation for your room and we're committed to bringing you an exclusive collection of colors, styles and textures that will last.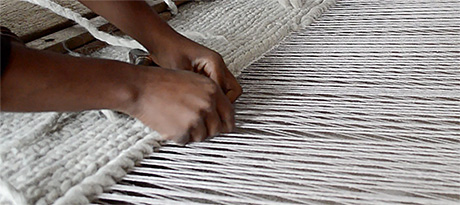 How It's Made
Experienced weavers use an upright or hand loom and traditional techniques to make hand-woven rugs and they can complete from four to seven inches per day. Artisans are able to produce a variety of textures and patterns, from flat weave to plush.
Construction
Hand-woven rugs are made on a loom, using warp (vertical) yarns that are tightly interwoven with weft (horizontal) yarns. The weft strands cover the warp and determine the color that is visible, creating the rug's pattern. A number of weaving techniques are used and chosen based on the type of pattern, texture or design required. Many of the methods have been in use for hundreds, or even thousands, of years.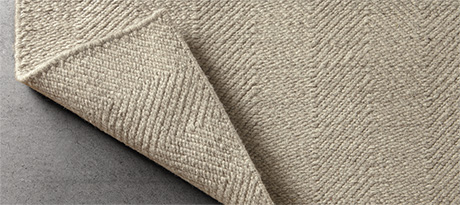 Finish Details
Hand-woven rugs do not require a backing because the strands are secured through the weaving process. An array of washing techniques are used, each of which achieves a different effect. Our hand-woven rugs are hand-finished and every rug goes through a range of quality inspections, looking for consistency in size, yarn quality, pile height and shearing.
More items in the Avilia Collection