Product Details
Design
With details inspired by the Arts and Crafts era, our Linear Classic storage collection is available in two traditional credenza heights and multiple widths and depths. Its refined, yet durable design features dovetail joinery and handcrafted hardware. For expanded height, width and storage insert options, see our Linear Modular Custom Collection.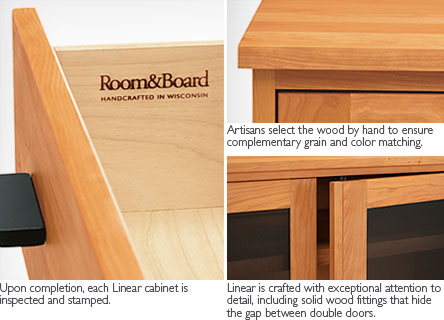 Materials
Linear is made from solid wood. The natural woods are finished with oil and wax, while the stained woods are sealed with lacquer.

Side overhang
Linear's top has an overhang of 1/2" on each side. For multiple Linear cabinets standing next to each other, or for a clean look, you can choose to eliminate the overhang of the top by selecting the option of flush sides.
Back
All Linear cabinets come with unfinished backs and the option to include openings for cords and cables. You can select a finished back option for a seamless look if your cabinet will float in your room.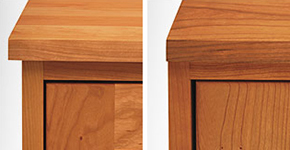 Hardware
You can select from natural steel, stainless steel or solid wood.
Bases
You can select from natural steel or stainless steel. Bases are 6" high with a clearance of 4".