Outdoor Fabrics
We only use Sunbrella®, the industry leader in outdoor performance fabrics, for our outdoor furniture, umbrellas and pillows. It has a smooth, tight weave that is stain, mildew and fade resistant. We offer Sunbrella in a range of timeless colors, from neutral to bright, to help you create an inviting outdoor space.
Sunbrella gives you the comfort and style of upholstered furniture without the worry. The durable fabric is made to last for years even in harsh environments, such as near salt water, pools, in full sun or humid climates.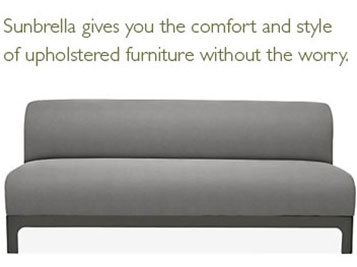 Sunbrella gets its longevity from UV-stable pigments that are added as the acrylic fibers are created, resulting in nearly fade-proof colors that are part of each fiber (like the orange of a carrot) instead of being applied to the surface (like the red of a radish). The fabric has a tight weave that gives it stability and a special finish to enhance water repellency, so water beads on the surface during light rain, rather than soaking in.
Maintaining Sunbrella is easy, too. Simply brush off dirt and leaves before they become embedded in the fabric, and rinse with water. For deeper cleaning and to remove stains, see our care instructions.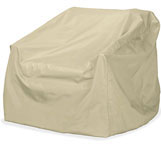 Protect Your Outdoor Furniture
We recommend using protective covers to extend the life of your outdoor furniture and to minimize cleaning. Each cover is constructed with Rhinoweave® fabric to protect against damage from sun, rain and snow.
See all outdoor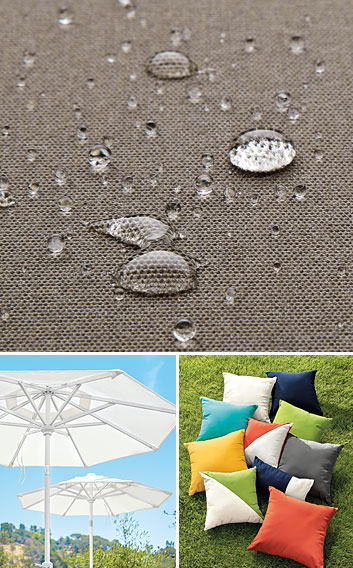 (top) Sunbrella fabric has a special finish to enhance water repellency
(bottom-left) Oahu umbrellas in Sunbrella Canvas white
(bottom-right) Outdoor pillows in Sunbrella fabric