Fabric & Upholstery
Choose from more than 300 upholstery fabrics in rich colors, subtle textures and fresh patterns.
Quality by the yard
We partner with some of the most respected fabric mills in the industry to bring you a beautiful assortment of modern upholstery fabrics for your home. Our high standards for durability, including resistance to fading, pilling and abrasion, ensure that your fabric will hold up to daily use.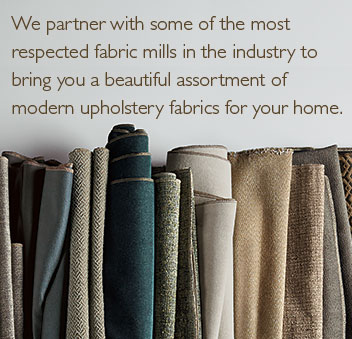 Attention to detail
The skilled artisans who make our furniture take pride in the fine tailoring details that set us apart. Fully-padded frames, hand-sewn button tufting and perfectly-aligned seams are just a few of the hallmarks of the quality you can expect when you invest in our upholstered furniture.
Any Fabric, Any Frame
We select a stocked fabric that complements the design of each of our sectionals, sofas and chairs, but you can also customize your furniture by choosing a fabric that reflects your personal style. Made for you in as little as five weeks, our custom upholstery options allow you to create a look you'll love. Explore Custom Upholstery.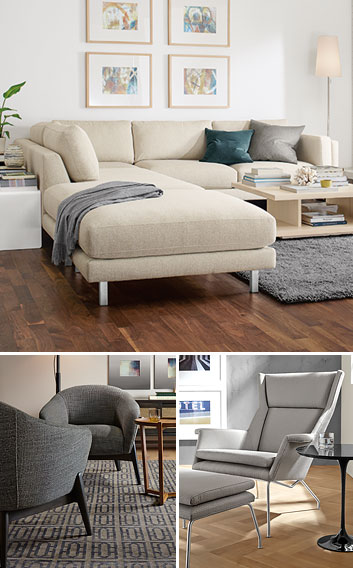 (top) Cade four-piece sectional in Orla ivory
(bottom-left) Carmen chairs in Tamm slate
(bottom-right) Aidan chair & ottoman in Pasha cement