Marble, Quartz & Granite
Bring durability and rich color to a tabletop or accent piece with slabs of marble, quartz or granite.
Marble: Stately & Rich with Beauty
A natural stone used for centuries, marble is an elegant choice for both casual and formal spaces. We offer white Venatino marble from Italy, which is a variation of the Carrara family. With normal use marble is a highly resilient stone, although compared to granite it is softer and more porous. Marble features veining with contrasting colors that run throughout each piece giving it a distinctive look. We recommend treating your marble like fine wood furniture, always use coasters and avoid contact with acidic substances.
Quartz: One of Nature's Toughest Minerals
Quartz is one of nature's hardest minerals. It's tougher than granite, and more resistant to cracks, chips, scratches and stains. Its high gloss finish and naturally non-porous composition eliminate the need for sealant while reducing the potential for bacterial growth.
Our furniture uses a composite made of quartz from the U.S. and Canada, combined with high quality polyester resins and pigments. Quartz composite is a durable, non-porous material ideal for tabletops and desks.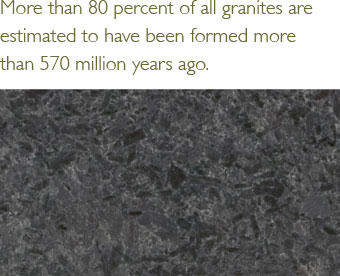 Granite: A Timeless Building Tradition
Granite is one of the world's oldest and most durable natural materials. More than 80 percent of all granites are estimated to have been formed more than 570 million years ago, and granite was quarried as early as 400 B.C.
Nearly as hard as diamond, granite has a very low absorption rate. This non-porous characteristic allows it to retain its beautiful luster despite regular wear and tear, and even after most accidents or spills. We offer "consistent" granite, meaning every slab features a similar pattern throughout. As with any natural material, however, every piece is unique.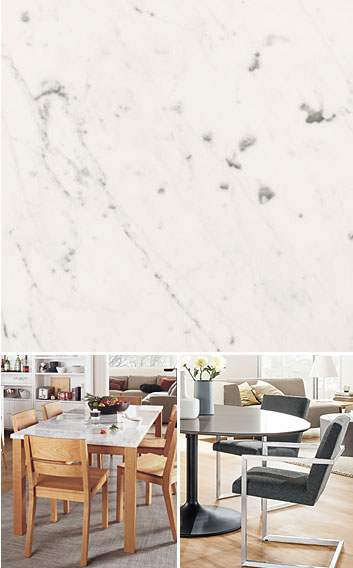 (top) Detail of white Venatino marble
(bottom-left) Linden table in cherry with venatino marble top
(bottom-right) Julian table with Fog quartz composite top