Weather-Resistant Materials
Our weather-resistant materials make spending time outdoors hassle-free, no matter what climate you call home.
Powder-coated Steel and Aluminum
Powder-coating is a non-toxic industrial finish with incomparable durability. Applied as a dry powder and then cured and hardened under heat, a powder-coat finish can be as bright and colorful as paint but is much more durable. Designed to withstand extreme temperatures, powder-coating protects against rust and fading, making it a weather-resistant coating for our outdoor steel and aluminum furniture.
Stainless Steel
The simple beauty of stainless steel will lend a modern look to your outdoor living area. Properly cared for, our outdoor grade stainless steel will last a lifetime.
Plastic
The durable plastics used to make our comfortable outdoor furniture create a modern look that won't fade or change color and can be left outside year-round.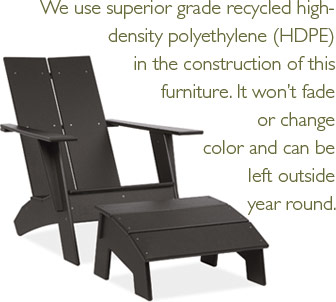 Ipe Wood
Weather, mold and pest resistant, ipe is a long-lasting choice for outdoor furniture. A naturally smooth surface and interwoven grain patterns lend beauty to this resilient, dense hardwood. Left untreated, ipe develops a silver patina but retains its exceptional durability.
Untreated, weathered ipe wood
Reclaimed Wood
On certain collections, we offer reclaimed wood salvaged from a variety of sources. In addition to being a sustainable sourcing practice, using reclaimed wood lends unique character to each piece. The wood, rich with patina from use and age, is enhanced and protected with an oil finish.