Amira Rug by the Inch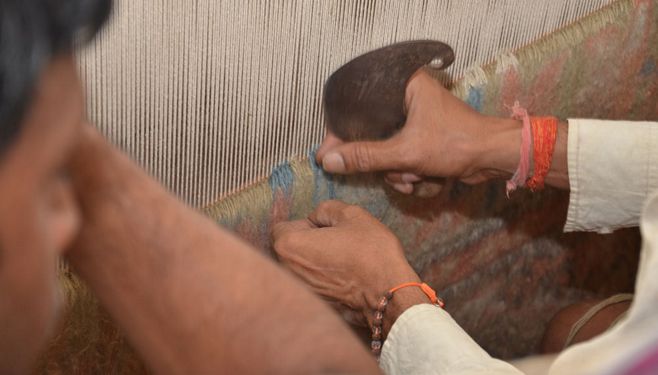 Inspired by Chinese carpets from the late 18th century, our hand-knotted Amira rug features a center medallion surrounded by lotus flowers and a border pattern taken from traditional Chinese fretwork. Equally at home in modern or classic spaces, the thick yarns and versatile colors give it a timeless appeal. The dyeing and finishing techniques used add a vintage look, subtle sheen and one-of-a-kind variations in color and texture.
Artisan Crafted by:
Obeetee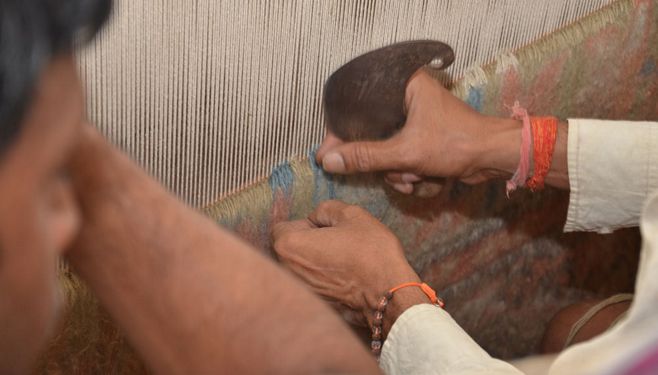 The company is India's leading producer and exporter of hand-knotted, hand-tufted and flat-woven rugs. Skilled weavers use their artistry to create rugs of lasting beauty and durability. Socially and environmentally, Obeetee's practices are the gold standard in the industry. In addition to providing high compensation and favorable working conditions, the company supports local school systems.
HAND-KNOTTED CONSTRUCTION DETAILS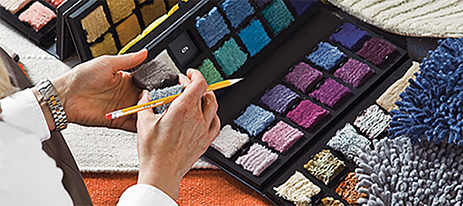 Rug Design Process
Long before our rugs are woven, they start as a vision of color, composition and material. We design our rugs with inspiration from art and architecture to historical designs and nature. Every color, pattern and texture is carefully considered to ensure the rugs are both beautiful and easy to live with. We use the highest quality yarns for durability and longevity. Rugs set the foundation for your room and we're committed to bringing you an exclusive collection of colors, styles and textures that will last.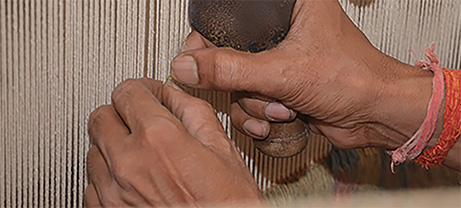 How It's Made
Simply put, weavers create each wool rug one tiny knot at a time. Experienced weavers can weave between one to two-and-one-half inches per day, demonstrating the meticulous care that goes into each rug. These unique skills are handed down from person to person—some of the weavers are part of the sixth generation of craftsmen. They are artists who create one-of-a-kind masterpieces.
Construction
Hand-knotted rugs generally feature intricate patterns that contain dozens of yarn colors. Before weaving begins, the naksha, or master plan, is plotted on huge graph paper in which each square represents one knot in the final rug. Each color on the naksha indicates a specific shade of yarn, which the weaver uses to guide the design.
The loom is prepared for weaving by setting columns of warps, stretched from the top of the loom to the bottom. The rug progresses as knot after knot of woolen yarn is tied on the warps. After the first weft (or row) is woven, it is tamped down with a mallet to keep it tight. A second weft interlocks the warps across each row to keep the knots in place. The weaver—or team of weavers, in the case of large rugs—repeats the process until the entire rug is completed. This labor-intense method produces rugs that are equal parts beautiful and durable.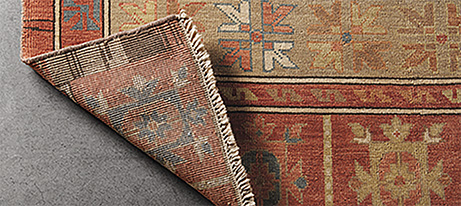 Finish Details
Hand-knotted rugs do not require backings because their construction makes them stable without one. The reverse side of the rug shows the same pattern as the front; however, the front has a pile and the back does not.
Every rug goes through a range of quality inspections, looking for consistency in size, yarn quality, pile height and shearing. An array of washing techniques are used, each of which achieves a different effect.