A rug provides the foundation for your room, helps protect your floors and provides comfort underfoot. We offer rugs in sizes, materials and designs to fit just about every space and style. And while we believe there are no rules when it comes to completing your home, here are some room-by-room guidelines to get you started. Shop all rugs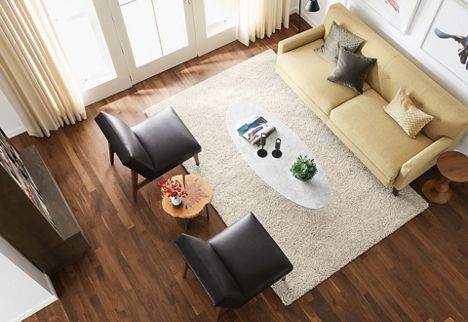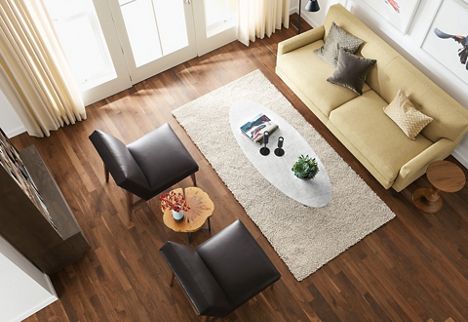 Size and Placement Recommendations
9x12 rug
A large rug not only provides more floor coverage, it also allows you to place all furniture legs on the rug, bringing together all of the elements in your room. Create a natural border by leaving about 18 inches of flooring exposed around the rug.
8x10 rug
Create a natural conversation grouping with a mid-size rug that allows you to place all furniture front legs on the rug with the back legs off. This arrangement opens up a path for walking around the area and also shows more of your floor. This also works well in open-concept rooms where there are multiple furniture groupings.
6x9 rug
Both your furniture and your flooring are showcased in this arrangement with sofa legs off the rug and front chair legs on. This provides a comfortable distance for conversation while using a smaller rug. For the best proportion, the rug should be a bit longer than your sofa.
9x12 rug
A large rug provides the right proportion for a generously sized table. We recommend leaving at least 24 inches of room on all sides to allow chairs to stay completely on the rug when pushed away from the table. If you have a big enough dining area, consider leaving eight inches of the floor exposed around the rug to anchor the space.
8x10 rug
This rug is nicely balanced with the size of the table and allows enough room to slide out chairs and remain entirely on the rug. We recommend leaving an eight-inch border between the rug and the wall to frame the space.
6x9 rug
Choose a rug size that allows the back legs to sit on the floor, leaving 18 inches between the rug and the wall to define the space while leaving an open path. By choosing a flat weave or other short pile option your chairs can move smoothly over the edge of the rug.
9x12 rug
This rug provides generous walking space at the sides and bottom of the bed and room enough to hold an accent chair or bench for extra seating. The top of the rug starts in front of the nightstand legs and roughly lines up with the bottom of the pillows. We recommend leaving about 18 inches between the wall and the edges of the rug.
8x10 rug
An area rug in this size provides enough space to step out of bed and onto the rug, plus room for an end-of-bed bench or chair. You can also achieve this look by placing a sheepskin rug or custom runner along both sides of your bed.
6x9 rug
Position the edge of your rug to line up with roughly the bottom two-thirds of your bed, keeping the nightstand completely off the rug. This arrangement showcases your rug and provides room for a bench at the end of your bed.