Washington, D.C.
Room & Board
1840 14th Street, NW
Washington, D.C. 20009
202.729.8300
Monday - Friday




11 a.m. to 7 p.m.

Saturday

11 a.m. to 7 p.m.

Sunday

11 a.m. to 6 p.m.
Find us in the Logan Circle neighborhood. We're located at 14th and T Street in the R.L. Taylor Building, a restored 1919 Ford Motors showroom.
Our D.C. Design Associates can help you create a home you love. Stop in today for our free design services.
We love having dogs in the store and regularly host adoption events with local rescue organizations.
Proud to be part of the MidCity Business Improvement District, a non-profit organization dedicated to local business development.
Named one of Washingtonian magazine's Best Home Decor Shops in 2016.
Parking available daily at 1740 14th Street, NW or weekends only at the Reeves Center at 2000 14th Street, NW (garage entrance on U Street, NW between 14th and 15th).
Convenient public transit:

Green or Yellow Metrorail to U Street/African-American Civil War Memorial/Cardozo
Woodley Park/Adams Morgan to McPherson Square circulator bus to 14th and U Street, NW
90, 92 or 96 bus to 14th and U Street, NW
50, 52 or 54 bus to 14th and T Street, NW

Become part of the Room & Board Washington, D.C. team by checking out career opportunities.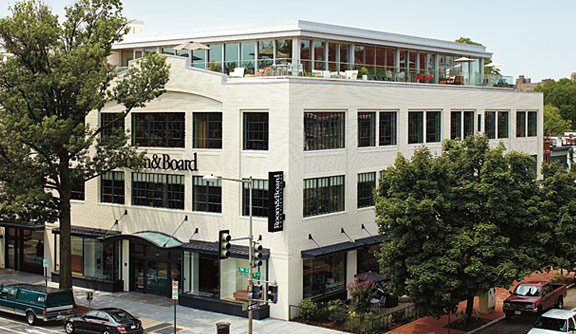 Places to eat
Places to stay
1155 14th Street, NW
Washington, D.C. 20005
202.737.1200
1500 New Hampshire Avenue, NW
Washington, D.C. 20036
202.483.6000
515 15th Street, NW
Washington, D.C. 20004
202.661.2400
We Offer Our Best Value Every Day. Our Prices Are Guaranteed Through 12/25.