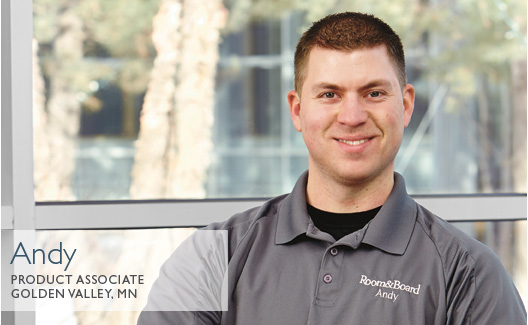 Andy has a long history of working with furniture, both personally and professionally. He spent nearly eight years working for a different furniture company before joining Room & Board.
As a woodworker himself, Andy embraces Room & Board's focus on high-quality, American-made products. "At home, I have a basement full of tools and I love working with wood and building with my hands. I started building furniture around age 14, so it is really part of who I am. The craftsmanship and attention to detail that go into our furniture is amazing and it is great to pass that on to our customers."
Andy joined Room & Board's Minnesota Distribution Center in January of 2007 as a Warehouse Associate working in transfers and receiving, then moving to a role where he was part of the UPS shipping team. During this time, one of his leaders suggested that he would be a good fit for an Inventory Associate role that was open on the Minneapolis/National Delivery team at Room & Board's Central Campus in Golden Valley.
After two and a half years, Andy moved into the role of Product Associate. "When I found out about the opening on the Product team, I decided to seek out information. I appreciate that Room & Board has always allowed me to grow and evolve, and to take on new roles and challenges when the opportunities arose."
What Andy especially enjoys about his role as Product Associate is that he works to preempt issues in product and timing. "I'm the first point of contact for Design Associates with questions or feedback about our product, a lot of which comes from our customers. It is great to be able to work with our vendor partners on a daily basis so that our customers have the best possible experience."
"All the steps that I've taken on my journey here at Room & Board have allowed me to be successful in my current role. Understanding the processes in other departments helps me do my job better. And the truth is that throughout my various roles in Distribution, Inventory and now Product, the common thread was always ensuring a great customer experience. That has never changed – I've just had the privilege of approaching it from different angles."