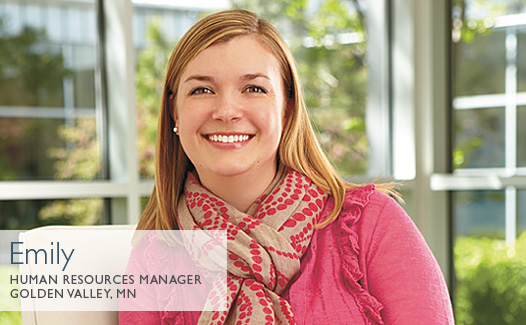 As a Human Resources Manager, Emily shares the responsibilities of supporting the delivery/distribution, retail and central office teams. When Emily began in an Human Resources Associate position in 2011, she saw right away that the Human Resources department held a unique role in the company. "At Room & Board, we hope that the Human Resources team is seen as a partner and a resource. We task ourselves with preserving our culture as our organization grows along with the changing world. It's something we take seriously and talk about all the time."
As Emily's role evolved and she began to grow and understand the business more holistically, she always valued the part she played in maintaining a respectful work environment where staff members find meaning in their work. "Every day is different, despite best laid plans. Our priority is that our staff members feel taken care of, so whatever comes up from a people-perspective comes first and then my day fills in otherwise."
For Emily, the challenge and the beauty of working in a flat organization like Room & Board is the need for consistency. "Unlike other companies, we don't operate with a lot of rules, policies and hierarchies. We simply try to do the right thing, while keeping the needs of the business in mind. It requires a lot of thoughtfulness and a constant eye toward being consistent and transparent. There is so much goodness in that."
As she looks to the future, Emily is excited for the growth of the company as well as her own professional growth and that of her fellow staff members. "We are encouraged to take responsibility for our careers. I feel supported in doing this for myself and in helping others do the same. As the company grows, we need to create efficiencies in the right places, but we also need to focus on ways to feel connected because that's what makes us who we are - that balance is what Human Resources at Room & Board is all about."