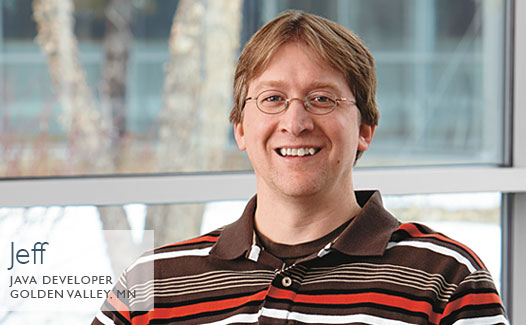 As a Java Developer on the Web Development team, Jeff is keenly aware of how important quality is to Room & Board.
Quality is the cornerstone of our products, and it also guides the work of every team. When Jeff writes code for our e-commerce website, high expectations are always part of the process. "The thing about writing code is that anything you code runs. Bad code runs and good code runs. At Room & Board we focus on quality and build milestones and testing into each project. Running our projects in this way results in a high quality end product."
Before joining Room & Board, Jeff spent a number of years working as a technology consultant as well as a few years with a large medical company. From these past experiences, he discovered that when there wasn't a focus on creating good work that it wasn't professionally fulfilling. "At other places I was asked to simply work heads down. Finishing a project was more important than the quality of my work. My former manager once told me that we weren't designing the Space Shuttle so I didn't need to pay so much attention to the details."
Jeff credits his team's small size and strong collaboration with their ability to develop such innovative software and design business-critical systems. "We are all on the same team and make group decisions. It is really a democracy when it comes to our work. We have a bright, dedicated team and everyone is excited to share ideas and problem-solve together."
Jeff also appreciates Room & Board's culture, which encourages challenging and interesting work. "My first two years here felt like therapy. I was used to a stiff, cube-farm world. I remember that even the job posting I saw online felt different, more refreshing. I like the flexible hours and the casual dress, but it is so much more than that. I have the opportunity to work with the technologies and tools I need to be most productive. I can use Linux, but others on our team can choose other technologies. The software we develop really is custom and that doesn't happen at a lot of places."