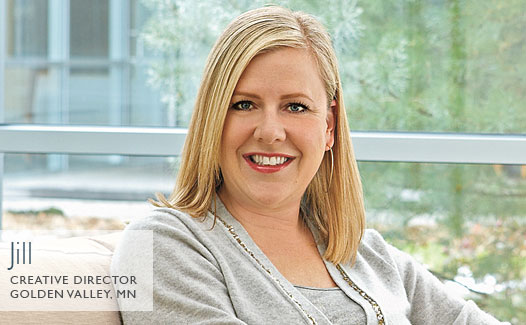 Even though Jill's title only changed a couple of times since joining Room & Board in 2000, her position has always felt fresh.
"My role has evolved over the years because it has expanded and grown—but that has only been able to happen because my voice became clearer and stronger as I learned more and more about our brand."
For Jill, a key to her growth and longevity with the company is the opportunity to express her views, right from the beginning. "It didn't take me long to realize that at Room & Board everyone's voice does count. What I love about our environment is that it is full of good, smart people who want to do good, smart work. It isn't about who came forward with each idea. Instead everyone acknowledges that good ideas come from all levels of the organization because we are all focused on the same goal of creating exceptional customer experiences."
Fast forward to her role as the Brand Experience Creative Director and Jill naturally evolved from not having any direct reports to leading a large team. "My focus has always been about getting the best ideas out of a team of people and not on my next title or the next level. In fact, all of my change has felt really organic. With all of my advancements I would look around and I was already doing the job."
As a leader at Room & Board, Jill encourages the same kind of growth and development for her team. "It is about being able to look at my team and say, 'What would you do? Go make the best decision.' It is not about taking credit or about figuring out who made a mistake. This allows everyone to be vulnerable and lets everyone keep growing. That is really empowering. People enjoy contributing because their opinion counts."