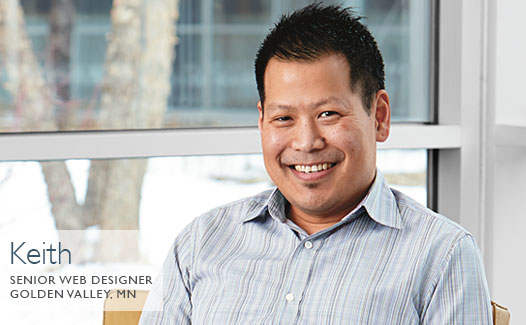 Keith's wife jokes that he is a Room & Board lifer and he admits that she is probably right.
When he first started exploring a career with Room & Board, he was drawn to the products but it was after learning more about the organization's values that he was fully hooked. "A friend of mine works on the Brand Experience team and she mentioned that Room & Board was looking for a Senior Web Designer. She thought I would fit in perfectly so we met and she told me about the Guiding Principles and the focus on wellness. I was really interested but once I met one of the leaders on the Brand Experience team I was sold."
After talking to Room & Board's Creative Director for about ten minutes and getting a glimpse into Room & Board's working style, Keith immediately went home and applied. During the interview process, Keith got even more excited about the role—when he was offered the position, there wasn't any question in his mind about accepting. "When I got the job offer I instantly said yes. In fact, I replied so quickly, we hadn't even discussed the salary yet."
Now six years later, Keith's initial impressions about Room & Board's work culture continue to inspire him. "There is a lot that I love about working here, but the number one thing is the collaboration. Being able to work with so many different people makes the end result even better. I like that everyone has a hand in what we design and that I am never creating anything alone or working in a vacuum. We all have a voice and bring our ideas to each project."
For Keith, the focus on collaboration has also contributed to the strong relationships he has built throughout Room & Board. "I am always happy coming in each morning because I get to work alongside such great people. We all share a similar vision and bring our expertise when we come together to figure out what is best for the company. One of my favorite meetings is our monthly brainstorming session when we discuss future marketing campaigns and how we can best support the customer experience. It is a pretty big group with teams from a lot of areas in the company and I am always amazed by how much talent there is in the room."