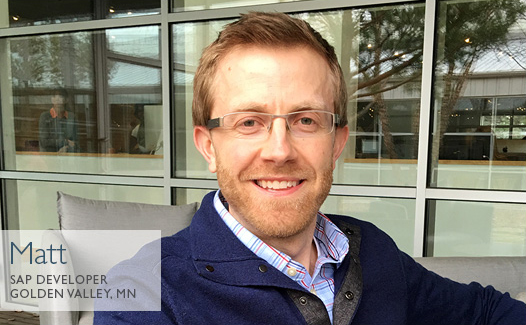 Matt was a customer well before he became a staff member at Room & Board, so he knew he had a strong affinity for its products and service. After working for a large corporation for a decade after college, Matt hoped to transition to a small- to medium-sized company with a "we're all in this together" culture. "While I received my Bachelor of Science in Management Information Systems, I worked at a couple different software start-up companies and missed that inclusive, personal feeling."
Matt was impressed by Room & Board's culture from the moment he started interviewing in 2013. "I felt so comfortable talking to everyone and I kept thinking that if the interviews were indicative of the work environment, I would love it here." Matt shares: "The sense of ownership, empowerment and respect at Room & Board is unlike anything I've experienced before. Everyone I work with is dedicated to doing their job well and creating the best experience for whoever their customer is – whether it's a fellow staff member, a vendor partner or a customer purchasing our product. I appreciate that this dedication comes from the simplest fact that it's the right thing to do."
Matt finds the variety and the depth of his role as an SAP Developer to be deeply rewarding. He explains, "Since SAP runs the core of our business, I feel lucky to work with every department from Retail to Delivery/Distribution. I offer the most value when I think holistically about the business and its processes and understand all the angles." Matt continues: "It's so great when I can offer a solution that the requestor hadn't thought of or known was possible."
That kind of deep thinking is encouraged at Room & Board, leading to great results. Matt explains: "The company places value on doing good, thorough work - there's an understanding that quality is more important than meeting a potentially arbitrary date. Timelines are set by everyone involved in the work, which demonstrates a mutual respect of each other's feedback and workloads." Having said that, Matt considers his team in IT to be uniquely agile in its ability to make quick decisions and enhancements. "We don't have the typical red tape of a very large organization, so we can get a lot of good work done, quickly."