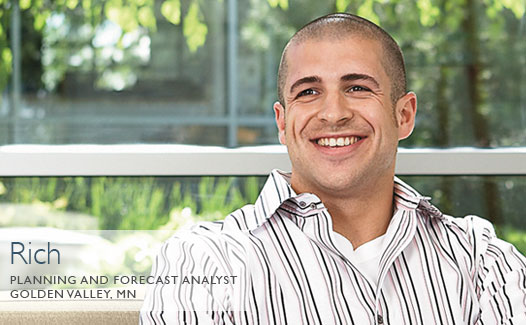 When Rich started at Room & Board he thought he would work at the company just until he figured out what he really wanted to do with his career.
Now many years, and a variety of roles later, he couldn't be happier. "I received the best advice early on in my career here when I was told by my manager that if I worked hard and was open to stretching myself, I could really grow at this company. I initially thought he was just saying it to get me to work harder, but it really is true!"
Rich first worked as a Delivery Associate for five years in Chicago and then moved to the Minnesota Distribution Center where he worked as a Warehouse Associate. He acknowledges that the inventory experience he gained in this role contributed to his success in his current position as a Planning and Forecast Analyst on the Product Team. However, he believes that his growth would have never been possible without the support he received along the way.
"One of the things I am most amazed by is how much everyone has supported my growth. At all of the other places I have worked, they only cared about getting the work done. Here so many people have taken the time to teach me new things. I feel like I was given a winning lottery ticket."
As a highly motivated person, one of the Room & Board Guiding Principles that Rich especially benefits from is the focus on individual accountability. "I believe that the practice of guiding our own careers makes us work harder." But what makes a career with Room & Board the most rewarding for Rich are the relationships. "There are a ton of different types of people here, all with different personalities, but there is also something similar about everyone. I think it must be because Room & Board hires genuine people that value respect."
Rich now believes wholeheartedly that he no longer sees himself as waiting around until he discovers what he really wants to do—he has found a career and company he loves. "Even after 10 years at Room & Board, there is not one day that I wake up and don't want to come to work."