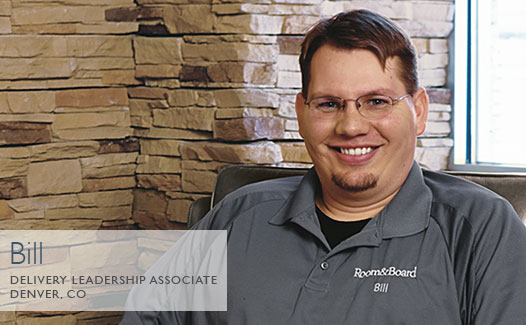 Bill believes that almost every aspect of his life is better since joining Room & Board. While this is quite a weighty statement, the ironic part is that he wasn't that serious about leaving his previous job when he came across the career posting for a Leadership Associate in our Denver Delivery Center.
"I didn't really have any intention of leaving my previous role as a Regional Delivery Manager for a large furniture chain, but I was there for 12 years and had felt like I didn't have a voice. One night I was looking on Craigslist and I saw the Room & Board career listing. I am so glad I decided to explore the opportunity; I couldn't have improved my situation any more than I have."
It was after Bill started talking to the recruiting team at Room & Board and meeting with individuals at the Denver Delivery Center that he became certain he was ready to leave his old job. "First I was just going through the process because I wanted to see what else was out there. But the more I learned about the role, the more I really wanted THIS job. Once the position was offered it to me it was a very easy decision."
Bill was used to leading a large team. On any given Saturday he was responsible for up to 12 delivery crews and coordinating about 100 deliveries. Although the team he helps lead in Denver is smaller than those at his previous job, his role feels much broader because he actually leads the team as opposed to just getting the job done. One of the things that Bill has embraced the most since joining Room & Board is the belief that everyone has a voice. "I was initially amazed that everyone wanted to hear my thoughts. In my former job, they didn't want to hear anything about how my team and I were doing; they just wanted to know when the work was done. Here it couldn't be more different."
In all of our markets, the Delivery Center and store teams work together closely. Creating a great customer experience is part of everyone's focus and Bill believes this common goal sets Room & Board apart. "I can talk with anyone at the store. I was used to working with retail teams that worked on commission and it felt like they were automatically looking from someone to blame when something went wrong. Here we work together. I am still fascinated with the collaboration."