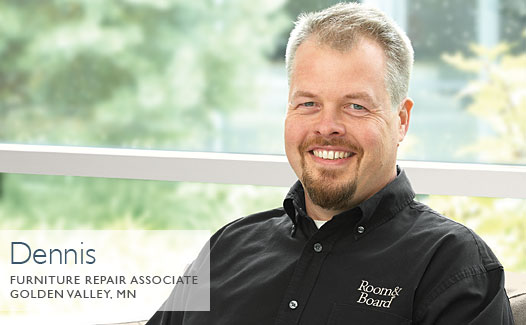 As a Minnesota native, Dennis was familiar with Room & Board. With a lifelong passion for woodworking, he quickly became a fan when he discovered the exceptional craftsmanship of Room & Board's products. What sold him on a career with the company were the business philosophies.
"When I was interviewing, I was given a copy of the Guiding Principles and I remember that it felt so refreshing to have all of these beliefs so clearly stated. It was unlike anything I had ever experienced before."
Dennis started as a Delivery Associate and quickly realized how passionate he was about the role. "Right away I embraced the delivery experience. I really enjoyed being the public face of a brand that I love."
Providing great delivery experiences and creating strong customer relationships fulfilled Dennis, but his passion for working with wood was never far from his mind. "The idea of fixing things really appealed to me and I was given the opportunity to learn from our repair team while still delivering—I did deliveries four days a week and apprenticed with the repair team one day a week. Some of my skills translated, but there was a lot that was brand new, so it was a great experience."
When a Furniture Repair Associate role opened up, Dennis applied for the job. One of the things he loves about his new role is that he still gets to interact with our customers and be a brand ambassador for Room & Board when he goes into their homes for repairs. "I get the biggest kick out of taking a piece of furniture and making it look brand new again—to fix it and make it as perfect as it was when it was built—because I know that in my own way I am helping build the relationship with the customer."
One of the things Dennis appreciates most about his role at Room & Board is the combination of relationship building and doing what he loves. "Furniture Repair Associates help make situations better and I get a thrill out of that. Making our furniture involves many steps and the final step in that process is making sure that it is perfect and ready for our customers' homes. I like that we are making sure that customers receive the beautiful, quality furniture that they expect from Room & Board."