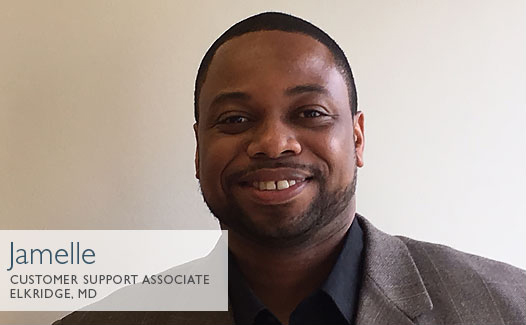 Customer Support Associate Jamelle Dean knew he had stumbled into something special when he attended a career open house held by Room & Board. "Everyone I met had been with the company for several years and they all seemed to be happy at work and happy with the company. I picked up on that right away and knew I wanted to be part of such a comfortable atmosphere."
Working as a Customer Support Associate in the Maryland Delivery Center comes naturally to Jamelle since his previous job was assistant service manager at a car dealership. "My customer service and retail management background prepared me for my current role with Room & Board. The industries may be different, but the skills are the same. I have always enjoyed helping customers and I get to do that every day. Also, my role gives me a first-hand look into new product, how it's doing, any problem areas and what we are doing to address those. I like that Room & Board is always deliberate, pays attention and tries to stay ahead of the curve."
Throughout his time with the company, Jamelle has realized that his sense of job satisfaction stems from a company principle that encourages staff members to find their life's work and grow in their roles. "Every year we go through our Priorities & Measures process, Room & Board's self-directed performance management system, and every year I look for an opportunity to try something new." In addition to his customer service role, Jamelle helps with routing the delivery trucks. As a peer interviewer, Jamelle is proud to have been involved in hiring many of the staff members on this team. He also serves on the Wellness Team with a focus on education regarding financial matters. "I make sure people know about investing in our 401(K) program and share tips on ways to save money throughout the year."
Jamelle believes Room & Board's comprehensive and thoughtful education and core orientation sets staff members up for success. "When you start at Room & Board, you learn about the business from the inside out. Delivery Center new hires sit down with everyone in the warehouse, from Repair, Service, Customer Support, Merchandise Quality, Leadership, Inventory, Returns... you name it. We all learn best practices for each position before we engage a customer. That context allows me to perform my role and understand how I fit into the company."