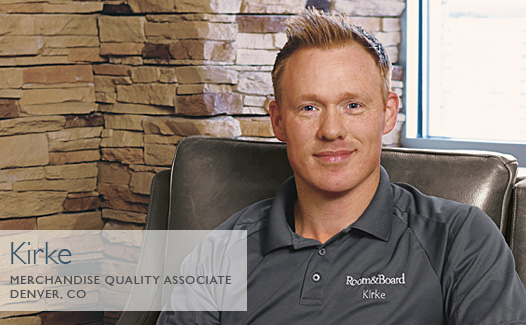 Although Kirke has seen a lot of growth since he joined the Denver Delivery Center team 16 years ago, he has experienced very little change. He credits this company-wide stability as one of the key reasons he still loves coming to work every day.
"When I started there were just three markets and now we have locations across the country. What is great about our Guiding Principles and core philosophies is that even though we have gotten bigger, we have always stayed true to who we are. Our foundation hasn't changed and that is a huge part of our success."
Kirke transitioned to his current role as a Merchandise Quality Associate after working as a Delivery Associate for his first eight years at Room & Board. In both roles, he credits the collaborative environment as the reason he finds so much satisfaction in his work. "We really have a team mentality here. If the Delivery Associates finish their work early and see we are still working, they pitch in and help and the same is true for all of us—if we are done early, we help them unload the trucks. It is really motivating to have this much camaraderie."
For Kirke, the collaboration he has with his peers isn't limited to his immediate team—he sees it happen on a daily basis throughout the entire organization. It is one of the values that he believes is at the foundation of Room & Board. "Our leaders make it easy to be successful because we have a say in what happens. Not only are our voices heard, but we have so much access to information. I love that every month we take time out of our schedules and go over the company's monthly financials. It is so clear that we have an impact and I have such a vested interest in the success of the company because I see how I affect both the numbers and the customer experience."
As a tenured staff member, Kirke enjoys sharing Room & Board's core philosophies with new staff members. "I really like when people join our team and we can share our culture with them. Seeing them come in with big smiles as they experience all of the things we have to offer for the first time is great. However, what is even more telling is that they stay excited even after things aren't as new anymore. For me, I am excited every year for what's ahead and that really speaks to the strength of our company."