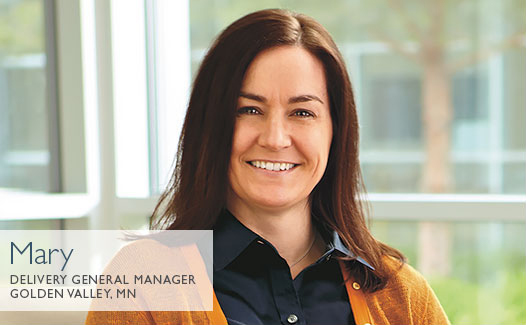 Mary has been with Room & Board since 1998 and has seen many changes, especially in the area of technology. On what has remained constant, she is unequivocal: "The caliber of people. There's the same passion, the same pride. Room & Board staff members working in delivery and distribution want to complete the Room & Board experience for the customer and that has never wavered."
Before joining Room & Board, Mary managed a retail store. "My job involved all the different facets that make up a store, from human resources to brand to finance. It wasn't until I started as a Leadership Associate with the Minneapolis Delivery team at Room & Board that I realized how suited I was to the distribution side of the business. It all just made sense to me."
Right away, Mary was struck by how much time Room & Board invested in her acclimation and education. "The focus wasn't so much on how to do something, but on why you were doing it. The in-role acclimation took three weeks and I was so impressed that the company took that time and care in preparing me to be successful in my role."
Mary eventually moved into the role of Delivery Market Manager and in that capacity had the opportunity to assist in the opening of the San Francisco and New Jersey Delivery Centers. "That's what started my journey in assisting Delivery Market Managers in other markets as they were getting introduced to Room & Board." Mary reflects: "At this company there are so many opportunities inside each of our roles. I am treated so fairly and it is such a pleasure to work here because you are encouraged to be aware of what is going on around you and to try different things as you grow and develop in your role."
Mary's current role as Delivery General Manager is a natural extension of the opportunities she pursued as a Delivery Market Manager. "As the company expanded into new markets, there arose a need for someone to oversee all the delivery locations and since I had been given the opportunity to work with the different delivery markets, I felt comfortable stepping into this new role."
Mary reflects: "At Room & Board we pride ourselves on challenging ourselves to continue to grow in our roles. It's not just me, it's everybody. I welcome the ideas and viewpoints of every staff member. If it translates to all the locations and helps us move forward or become more efficient, it's a beautiful thing. That's a win-win for everybody."