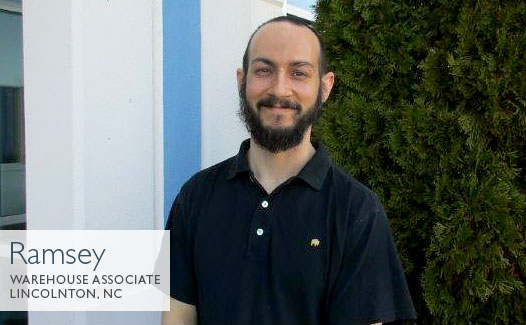 When Warehouse Associate Ramsey Alteria applied for a job with Room & Board in 2007, he had no idea he would be getting so much more. "I wasn't familiar with Room & Board, but starting with the interview process, I began to see that this was a company that had the things I wanted to see as a staff member: a positive culture, a team environment, competitive benefits and people more interested in building a brand and not just margin lines."
The skill set Ramsey brought from his distribution background transferred easily to his role with Room & Board. He shares: "Working in distribution means having a set work load that has to get done in order to keep the wheels greased. I came to Room & Board knowing that the most successful distribution is when you have an invisible hand... it should be seamless. Yet there are countless things we have to do every day to make sure the other parts of the company get what they need from us. We work hard and it requires perseverance, but I can honestly say that I've grown as a person because of my job."
Ramsey finds the work environment at the North Carolina Distribution Center to be motivating and inspiring. "Room & Board is a company that gives a lot and expects a lot. You are rewarded for your efforts. You are given the space to do good and receive good back." Ramsey continues: "As we have gotten bigger, no matter how many more trucks we're sending out, we have managed to keep the same sense of team. And it extends to the company as a whole. As I have grown in my role, I've gotten the opportunity to work on logistics with various teams and delivery centers in the company. It's nice to feel connected and know you're part of something bigger."
Ramsey appreciates that Room & Board's mission is ever-present. "I've always felt that as companies grow, there's a danger of the values getting lost. I am consistently surprised at how close we stay to our common goal: to give the customer a great experience. If you enjoy working hard in a team environment toward a common mission, Room & Board is an excellent place to be."