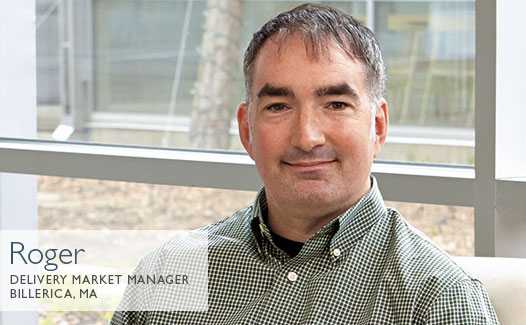 Roger was intrigued by Room & Board's messaging from the moment he first saw the job posting for Delivery Market Manager. "I was unfamiliar with the company, but the focus on American-made, sustainable practices and work-life balance resonated with me. I thought 'there's something good going on here.' As I started digging deeper, I saw that these were a lot more than bullet points. The consistency of the messaging from the first job post through my last interview really set me up to have a high level of trust that this is a company that walks its talk."
While Roger's background was not in furniture delivery, he quickly realized that Room & Board was focused on the right person for the right role – they were looking for the kind of leader who could run a business but also work collaboratively to grow a team. "I worked for another privately-held company for 20 years, starting in a summer job in shipping and receiving, and working my way up to director of operations. Both companies have a unique business perspective where they strive to serve their segment really well instead of trying to please everyone. That allows you to dial in on what really matters. Even though the industries are different, the skillset I bring to the table is transferable."
While his transition between companies has felt smooth, Roger has been pleasantly surprised at how much he enjoys Room & Board's focus on the customer experience. "Having the customer so close at hand, whether it be on a delivery or a customer pick-up, is really rewarding. I enjoy seeing their reactions to our furniture, our process and our culture. We have a garden at the Delivery Center and sometimes customers end up leaving with a bag of tomatoes. That day-to-day contact is great and not something I experienced in my previous job."
Roger believes that Room & Board sets its staff members up for success through thoughtful recruiting, training and messaging. "The values and purpose are all aligned and consistent from the beginning, so you can focus on your work. The company makes a huge investment in you and your team, and it bears a lot of fruit." Personally, Roger finds great satisfaction in the development of his team. "We are working within a structure that supports our growth, so it's extremely gratifying to watch my team get stronger in their roles and as a whole." Opening the Boston market has been an added layer of challenge and reward for Roger. "We are learning something new every day. We are taking the first steps of what promises to be a really good journey."