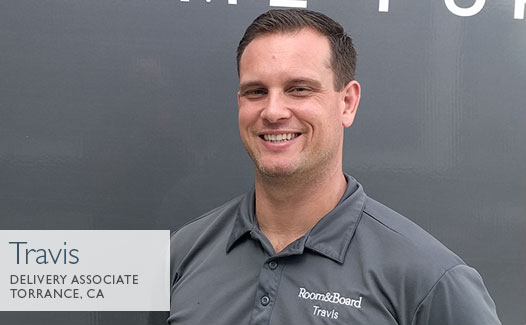 Before joining Room & Board as a Delivery Associate, Travis worked in the health and fitness industry for many years. Travis finds that many of the skills he developed as a fitness coach and massage therapist transfer to his current role. "The customer service aspect of my job is something that comes easily to me since I have worked with people for so long. It's great to travel throughout the city and get a better appreciation of the neighborhoods and types of customers throughout." Travis continues: "My fitness background also helps with everything from the necessary aspects of recovery from a long day of deliveries, to planning my meals for delivery days, to general furniture lifting techniques."
Travis enjoys the physical nature of the Delivery Associate role, sharing, "Staying active is an important aspect of this role for me and I genuinely feel like the company supports our health by providing great wellness resources. Room & Board seeks our feedback on what works best to maintain safety and provides tools and resources in support of that. They want information from the staff members actually doing the jobs and use it to shape the infrastructure and processes."
The problem solving component to the Delivery Associate role is also something Travis appreciates. He shares: "Throughout my career as a fitness coach, I believed in maintaining a level of simplicity and efficiency as the key to success. I do the same thing when assessing a delivery. My partner and I figure out the biggest challenges first and everything else falls into place."
Travis believes that the common purpose of doing good, efficient work in order to provide the best customer experience is a unifying factor for his team in the Southern California Delivery Center. "The comradery is excellent on our team. We're a tight-knit group and the connection we have helps us do our jobs efficiently and seamlessly."