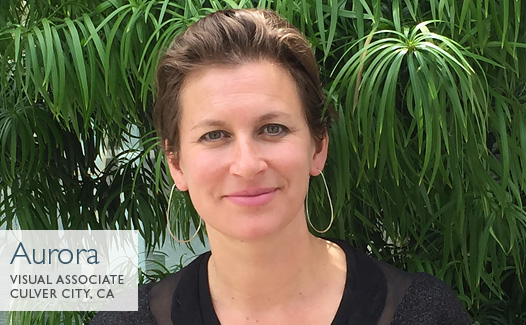 Working as a costume designer in the advertising industry satisfied Aurora's creative side but became tricky once she had children. "The hours in advertising production are long and unpredictable, which was hard with two children. I decided to look for a job with a regular schedule and stumbled upon Room & Board. The more I researched the company, the more I was intrigued by its progressive philosophies on sustainability, American-made furniture, wellness benefits and respect for its staff members," she shares.
Aurora was one of the Design Associates who opened the Culver City Store in 2009 and worked as a Design Associate for four and one-half years before transitioning to her current role as Visual Associate. As a Visual Associate, Aurora is responsible for ensuring that the presentation of the showroom is consistent with Room & Board's design philosophies and is inspiring to both her peers and customers. Aurora shares: "I used to help our former Visual Associate with the showroom upkeep and presentation and really enjoyed it. When the position opened, my manager encouraged me to look into it, but it seemed like such a daunting job. Room & Board allowed me to explore the Visual Associate role for a generous amount of time and I soon discovered I was actually quite suited to it."
Aurora's experience as a costume designer translated beautifully to the role of Visual Associate. "There are so many similarities between wardrobe and furniture – color, texture and shape all come into play. When you build a room, you are building a character, so it's the same approach." Her experience as a Design Associate also continues to inform her role. "After working as a Design Associate for more than four years, I had a good sense of how to use the showroom as a selling tool, who our customers are and what they need from the showroom experience. This has helped me grow incrementally in my role."
Aurora also values the feedback she receives from her peers and credits the robust exchange of ideas to the deep relationships she has established over the years. "Room & Board is a company that fosters building relationships and it shows in the longevity of so many staff members. I've had an amazing journey with many people throughout the company." Aurora concludes: "When you're given a voice, the tools to be successful and the freedom to be creative and have fun in your role, you're going to want to stick around."