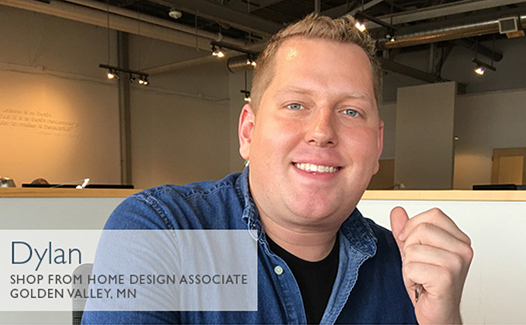 Dylan has always loved retail, but after five years in a high pressure environment, he was feeling burnt out. "It boiled down to not being able to find value in my work. I was growing as a young adult and finding it increasingly difficult to connect the dots between my work and what I cared about." Dylan continues: "In the retail community, there was always a buzz about Room & Board being a great place to work. A friend nudged me when she passed along a current opening and said 'I think this culture would be right up your alley.'"
Dylan's friend was right. "I started at Room & Board in May of 2011 and the difference has been life changing." Dylan began as a Design Associate in the Edina showroom where he worked for two years before transitioning to Room & Board's 1-800 channel, Shop From Home. In Shop From Home, Dylan continues to collaborate with customers to create homes they love through multiple channels, whether it be on the phone, through "Chat" or on the web. "Right from the beginning, I began to learn from my managers and peers that how you feel at the end of the day has value. Helping customers create a space they love has value. Exploring ways to grow within your role has value. I learned to look at my work and my life holistically as I realized this is a company that wants its staff members to create careers with meaning."
A unique aspect to the Shop From Home role involves problem-solving for the customer since a Design Associate is but a phone call away. Dylan shares: "No customer story is the same and that's the exciting part. We are encouraged to find the best solutions for our customers by using the many tools at our disposal: systems of practice, connecting with others in the company and using our own judgment, experience and intuition. The trust and responsibility we are afforded at Room & Board to own the process of problem-solving for the customer is empowering and ultimately helps us create the best customer experience."
For Dylan, Room & Board's deliberate approach to everything from recruitment, to staff member acclimation, to company growth is indicative of a company that values doing things the right way. He shares: "If I think about what is best for the customer, it's often better to take a step back and collaborate with peers or check in with leadership to get a better result. The fact that Room & Board encourages us to be thoughtful and not necessarily choose the fastest way is really cool and makes you feel supported in doing good, thorough work."